Lights, Camera, Action: The Launch of Mitty's New Video Production
A look at Mitty's new video production team
In the first few weeks of the new school year, members of the Mitty community noticed something new on the announcements: AMTV. Featuring interviews, comedy, and game show segments, the school's first video production was created by the staff members of AMHS Live. They devoted the last few months of the previous school year to scriptwrite, film, and edit the videos now on their YouTube channel. Initially, the main job of AMHS Live was to live stream Mitty's sports. But when Mitty adopted the use of motion-detecting cameras that automatically follow movement, this gave Mitty's media team the opportunity to focus on creative and narrative productions. 
The process of filming and editing AMTV is demanding, requiring the teamwork of editors and actors alike. "It takes about eight months to make one episode," recounts junior Joon Heo, the lead producer of the show. Before the production of each episode, Heo and the crew have to come up with their identity, all while discussing the content and atmosphere they want to portray. As for the script, it is split 50/50 (half being already scripted and half being improvisational) according to senior Alexis Korb, one of the hosts of AMTV. During the interviews for AMTV's interview segment, though, the crew can stay true to its script.
After all of the preliminary tasks were completed, the AMTV crew recorded the first episode in multiple segments using Sony and Canon cameras. To capture audio, they used "shotgun" microphones, which attach to the top of cameras, and lavalier mics, which clip onto clothing for more clarity during conversations. The crew also used gimbals and shoulder mounts for keeping the cameras steady, and a tripod for stationary scenes.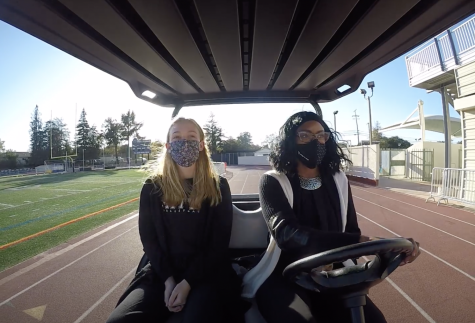 The show featured "Comedians in Carts" with Mrs. Latanya Hilton, an interview with 2022's valedictorian, Adarsh Ambati, and the game show "Who Wants to be a Mittyionaire?" Hosts Alexis Korb and the Monarch graduate Danny Herz bridged the gaps between segments. Then, the editors merged and refined each of the individual video clips to create the final product.
For Heo, his favorite part during filming and editing was creating the "cold open." "Cold opens are when there is no formal introduction, and we just start off with a bang and dive into the content," Heo explained. And he wasn't the only one enjoying the process: Korb adds, "I had a blast filming AMTV because it was just so funny, the situations we would get into. It's cool to work with different people who are passionate about the things they do."
The staff producers hope to expand AMTV in the new media club: Mitty Monarch Media. With more students interested in media production, the new club has exciting plans for the upcoming year. They will be working with a wide variety of media from photography and short films to even podcasting. According to Korb, "I think we are going to have a couple of different projects and opportunities, but ultimately it's going to come down to what Mitty will want to see, and it will be lots of fun!"