Tiger Sugar: My Experience at a Youtube-Recommended Boba Shop
A review of Tiger Sugar, a popular Bay Area boba stop
Like many teens, I've been a bubble tea enthusiast for a while now—my go-to being Teaspoon, a favorite of many Mitty students given its nearby location. But it wasn't until Australian YouTube channel TwoSetViolin released a video back in April with a boba tier list that I realized I was missing out on a whole world of authentic bubble tea. Although the list included 25 different brands, I had only ever tried Kung Fu Tea (once), Gong Cha (several times), and ShareTea (once), which were B, C, and E tier respectively. Without a real reference point, I was eager to find out just how good Eddy Chen and Brett Yang's favorite brands are. To my excitement, I found Tiger Sugar, a Taiwan-based chain ranked S-tier (reviewed at 5:39 in the video), just ten minutes away from my house. So here's my take! 
Right away, I was impressed with the aesthetics of the interior: a wall of greenery with the Tiger Sugar logo facing another wall with four Chinese characters and the words "Brave as a Tiger." Upon arrival, the line was moderate, but there were a number of customers behind me by the end. Complete with a number system similar to that of Happy Lemon, the drink list was specific but limited compared to that of Teaspoon. However, this seemed to fit the shop's simple, refined vibe in that it emphasizes quality over quantity. The ordering process was quite easy, and the person who gave me the drinks even advised me to "be sure to shake well."
My family ordered three drinks, two of which were Tiger Sugar's signature: Black Sugar Boba Milk with Cream Mousse. The order was ready in around five minutes—pretty impressive for an impatient person like myself. I immediately noticed a size difference: a "regular" Tiger Sugar drink is rather diminutive next to Teaspoon's one size. But quantity aside, taste was where my anticipation lay, and I was NOT disappointed. The signature drink reminded me of Teaspoon's Caramel Cream but with added richness from the mousse. As I chewed on the boba, which was on the harder side, the decadent brown sugar flavor was especially prevalent. One may wonder how the cream mousse benefits the drink, as it's not a common part of bubble tea, but it actually comes across as one of the most interesting and innovative additions to a bubble tea drink, adding flavor, texture, and substance. The mousse and brown sugar syrup also blended easily with the milk—a step up from the Caramel Cream, where I'm always toiling to get the caramel off the edges of the cup.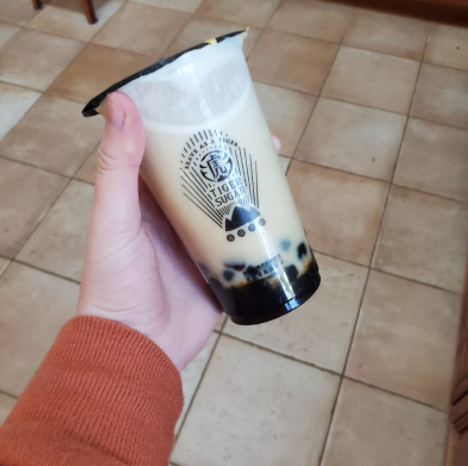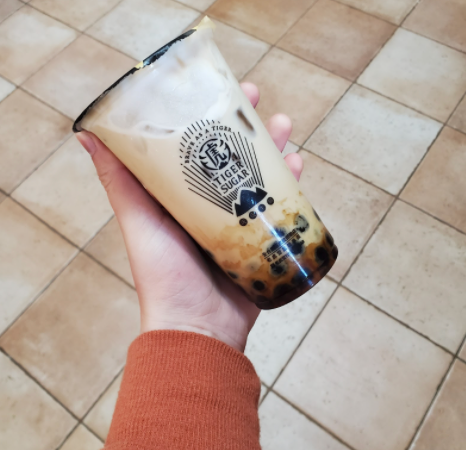 Unlike Brett and Eddy, who can testify for the long-standing reliability of Tiger Sugar, I can't…yet. I can't address consistency, one of the most important factors of any eatery. Upon sampling my mom's Black Sugar Boba Green Tea Latte with Cream Mousse (and 0% sweetness), the pearls appeared to be softer than my pearls, so over the span of two drinks, I could already distinguish some inconsistencies. But another factor that neither TwoSet nor I can account for is potential inconsistencies throughout the chain as a whole. In other words, who knows if the Tiger Sugar locations here in the U.S. are on par with the ones in Asia? I guess I'd have to go overseas to find that out.
Overall, my experience trying Tiger Sugar was thrilling but not life-changing. Would I go back? Absolutely! I drank the signature way too fast, which just shows how delectable the drink was all around. But did the experience make me turn my back on Teaspoon or any other boba shop forever? Of course not; there is no legitimate reason to abandon a place whose location and/or variety of drinks may just be too desirable to turn down. But it's always refreshing (pun intended) to expand your boba knowledge, so if Teaspoon is crowded one day after school, take a short drive to The Marketplace in Cupertino for a delicious and sweet experience that may just make you feel "brave as a tiger."