Drip or Drown: A Met Gala 2021 Fashion Review
The 2021 Met Gala has viewers wondering who fit the theme & who didn't get the memo
The Met Gala has been a long standing tradition between Vogue magazine and the Metropolitan Museum of Art in which this lavish event features a culmination of art from the museum itself, artistic wardrobes worn by celebs and politicians, and live performances performed inside the museum.  The event collectively functions as a valuable fundraiser for the museum. All told, the Met Gala is an opulent event for the elites of our society and it serves as a moment in time for the public to admire fashion, art, and activism. This year's Met Gala theme is titled In America: A Lexicon of Fashion: a celebration of American designers and their inclusivity. The clothes worn should have reflected upon and celebrated American fashion, though some guests clearly missed the memo. 
"
The clothes worn should reflect upon and celebrate American fashion, though some people clearly missed the memo."
AOC Exposing the Rich While They're in the Room?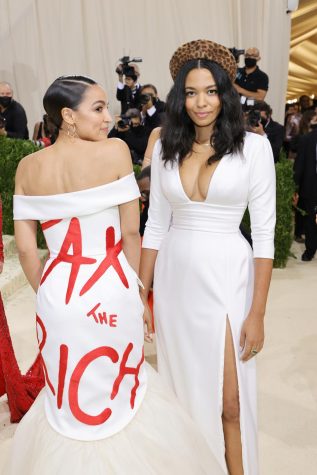 Popular left leaning Congressional representative, Alexandria Ocasio-Cortez, received criticism for her recent Met Gala look as it made a controversial political statement which some deemed inappropriate. AOC arrived in a plain white dress, designed by American brand Brother Vellies, with the moniker "Tax the Rich" painted in red on the back referencing the recent push to tax the most wealthy 400 households in America 8% federal income tax. Given that the ticket price to enter was greater than $30,000 and the fact that some of her constituents were protesting outside the Met's doors, her statement was rebuked by some as tone deaf. Nonetheless, using her platform to make relevant political statements was impactful especially given the viewership that the event consistently draws. Ultimately, AOC is encouraging her peers to stand up for the marginalized members of society with their privilege, making a more impactful statement than who's best dressed. 
Quannah Chasinghorse: Reclaiming her Culture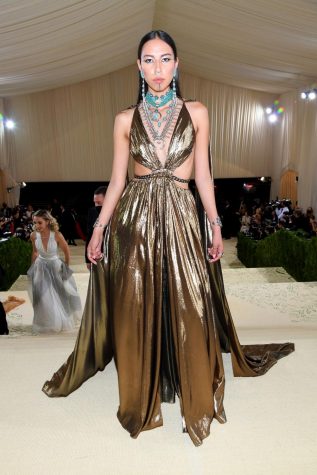 Though she isn't an A-list celebrity, Indigenous model and activist Quannah Chasinghorse's 2021 Met Gala look was definitely one of the best looks of the night. Not only was her dress and jewelry gorgeous but, also, her whole ensemble embodied the theme. Chasinghorse wore a gold lamé gown and cape designed by Peter Dundas with traditional turquoise jewelry from the Navajo tribe. While documenting her experience for Vogue, Chasinghorse explained, "It's extremely important to represent and bring authentic and true American culture to this year's theme, as Native American culture has been appropriated and misrepresented in fashion so many times." This year's theme, In America: A Lexicon of Fashion, is perfectly exemplified through Chasinghorse's look as it is an important reminder that we are living on stolen land; a fact that is often overlooked. Overall, Chasinghorse's gold dress is a perfect example of a look that fits the theme while also being eye-catching enough for the Met. 
Kim Kardashian: Innovative or Just a Cop Out?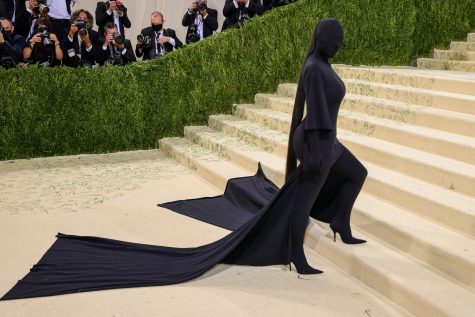 One of the most ambiguous and controversial looks of the 2021 Met Gala was none other than Kim Kardashian West. Her all-black look, created by Spanish brand Balenciaga, covered her whole body—including her face—which many fans, for good reason, did not understand. Apparently, the outfit was based on the idea that Kim was so recognizable as a part of American culture that she did not need to show her face to be noticed. One could say Kim is a part of American culture; however, the connection back to the Met Gala theme is a stretch; not to mention her designer was not even American! Kim may be the queen of pop culture, but claiming she is more influential to American citizens than every other attendee is certainly presumptuous, maybe even arrogant, compared to what she's brought to past galas. All told, this look felt like a cop out. 
Justin and Hailey Bieber: Not Really a Celebration of Fashion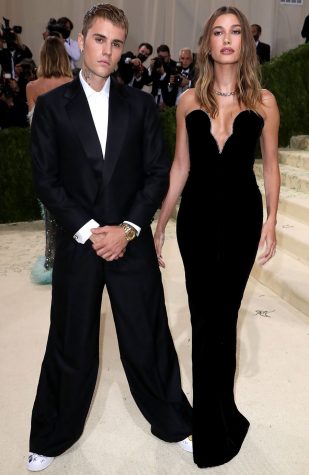 The Biebers' simplistic look at the 2021 Met Gala prompted fans to ask the following question: Is it timeless or boring? Their looks lacked an X factor that makes the Met Gala such an interesting event. People want to see extremely extravagant garments that also make statements. Hailey, however, showed up in a black YSL, floor-length dress, while Justin wore a casual suit from Drew House. The uncertainty around whether the Biebers' look was classic or unimaginative is largely due to the ambiguity of the theme. There is nothing more classic than black suits, but for the Met Gala it just seems plain. This year's theme, however, allows for guests to show up in basic clothing and be deemed as "timeless."
Overall, the Met Gala had, as per usual, a varied array of looks, but some failed to meet the high standards that viewers expected out of these celebrities. As in past years, everyone took a different interpretation of the theme; however, this broad general theme did stump a few attendees and allowed for some outlying interpretations. The gap in galas from the pandemic had viewers wondering if the theme was a strong enough comeback, especially with the lack of red carpet events during this time.
Honestly, the ambiguous theme allowed for too much generality and looks that lacked that wow factor that the Met usually brings. However, with this year's Met split in two parts, fans will just have to wait until May to see what the celebs bring to the next event.