Mitty's Recent Album Picks
Take a dive into Mitty's favorite recently-released albums from alternative indie to underground EDM to mainstream pop: Lorde's long-awaited Solar Power, Camiella's U.U.F.O, and Lil Nas X's Montero.
Solar Power: Lorde's Take on the Sunshine Feeling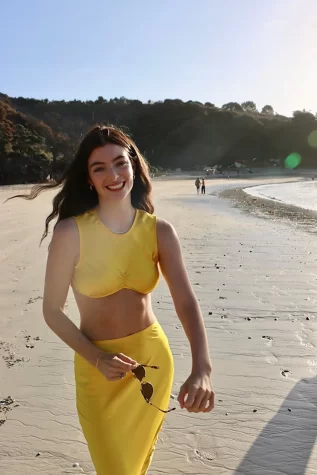 by Nicole Hartman
Since the drop of the critically-acclaimed alternative album Melodrama in 2017, Lorde fans have been in a music drought. Ella Marija Lani Yelich-O'Connor–more popularly known as Lorde—retreated back to her home country of New Zealand and completely disappeared from the public eye (except for when she went to Antarctica to write an essay for The Rolling Stone about climate change). Then on June 7th, 2021, longtime collaborator Jack Antonoff posted a picture of the Solar Power album cover. The sunny single was released on June 11, and thus, a new and bright Lorde era began.
"
Lorde is now looking forward with hope instead of looking backwards with regret — and we are here to see it."
The album, released on August 20, 2021, might sound like a complete 180 from her previous works—2013's Pure Heroine and 2017's Melodrama—to the untrained ear. But long term listeners will know that while the production has a completely different vibe, the themes of the songs are really not that different from her other songs. "Fallen Fruit," track 5, sounds similar production wise to "California Dreamin'" by The Mamas & the Papas. It's a psychedelic daydream with a disrupting beeping to signify the need to wake up into reality. But lyrically, the song has similar themes to "Sober" off of Melodrama.
While some of the themes are the same, Solar Power looks at them from a new, mature, peaceful—though still melancholy–perspective. In "Secrets from a Girl (Who's Seen it All)," Lorde seemingly speaks to her younger self, but also to young people everywhere. She gives advice she wishes she had known in her adolescence, a standout part of the song being the bridge. Instead of singing, a woman (it's unclear whether it's Lorde or not) gives a service announcement about what to do with one's sadness. The voice welcomes them to "strange airlines" and tells them their "emotional baggage can be picked up at Carousel Number 2" and to  "Please be careful so it doesn't fall onto someone you love." It is through lyrics such as this that Lorde demonstrates how much she has evolved since her first single, "Royals," was released in 2013.
The first song on the album, titled "The Path," perfectly encapsulates her newfound clarity. "Let's hope the sun will show us the path" Lorde sings. The vocals on this song are breathy harmonies in head voice, a sharp turn from her usual earthy and throaty voice. These types of vocals carry through the rest of the album and they fit the theme perfectly. They represent something lighter, as if all of Lorde's past insecurities and demons have been shunned from her mind by the sun. But there is still something dark lingering in these songs, a signature of Lorde's. "Mood Ring," a song that sounds exactly like you think it does, is upbeat with a warm guitar strumming in the background, layered with vocal harmonies that add to the euphoria. But the lyrics are slightly disturbing, "I can't feel a thing, I keep looking at my mood ring."
But overall, the album is about recovery. The final song on the album, "Oceanic Feeling," Lorde reflects and foreshadows what she hopes her future will hold. In her past works, Lorde has never spoken about her future, but instead about how her past is affecting her present. That is the difference between Solar Power and her two past albums; Lorde is now looking forward with hope instead of looking backwards with regret—and we are here to see it.
Camellia's U.U.F.O: EDM for Everyone
By Clara Schultz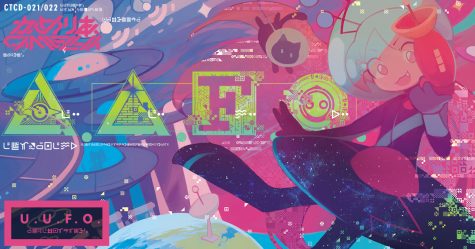 When you think of EDM (electronic dance music), what comes to mind? You may think of Alan Walker, Marshmello, or Avicii, but for me, whose taste doesn't always align with mainstream hits, EDM means something very different. It means a tight corner of artists whose songs cover countless genres and subgenres often adhering to hardcore, artcore, or dubstep. But these can be confusing, so where do we start? Japanese composer Masaya Oya, also known as Camellia, is one of the frontrunners of this style of EDM, having contributed to many rhythm games such as the Sound Voltex series. His newest album, U.U.F.O., was released this past July. Consisting of 27 songs across 2 CDs, the album encompasses over 30 genres, making it a fantastic introduction to this EDM scene; it's got something for everyone.
"
While incorporating so many genres into an EDM album could lead to overkill, U.U.F.O. was not only cohesive but also refined and enjoyable from a listener's perspective."
"Creepy, weird, strange and mysterious. It's full of songs that are even fun, light-hearted, and funny," as said on Camellia's official website. While incorporating so many genres into an EDM album could lead to overkill, U.U.F.O. was not only cohesive but also refined and enjoyable from a listener's perspective. Although every song delivers, a few stood out to me: "Electromagnetic Stealth Girl Born in Philadelphia" combines insane piano with electro, "Kisaragi" enthralls artcore lovers like myself, and "GHOUL" brings fans a sequel to Camellia's most popular song, "GHOST." In addition to displaying his own talents in U.U.F.O., Camellia released collaborations with The8BitDrummer, Hatsune Miku, Toby Fox, and more. "Myths You Forgot" is a particular highlight, as it perfectly fuses Toby Fox's iconic melodies with charged future bass and maddeningly spectacular beat drops to create an exhilarating feeling of riding a train to somewhere nostalgic—did anyone else play Undertale in elementary school? In any case, such variety allows everyone to pinpoint something that tickles their fancy.
So I said U.U.F.O. envelops almost everything this niche corner of EDM has to offer, but there is one way in which the album may fall short: something calm. No matter the genre, all 27 songs share an element of craziness that could be overwhelming for someone new to artists like Camellia. So if you're into chill beats, the innocent beginning of "Myths You Forgot" is about as peaceful as it gets — which isn't much. Realistically speaking, however, that's Camellia for you: a truckload of pure madness in the best possible way. If you're wanting something new to listen to, definitely check out U.U.F.O—just be prepared for a wild ride.
Lil Nas X's Dive Into Montero
By Andrew Ordeñez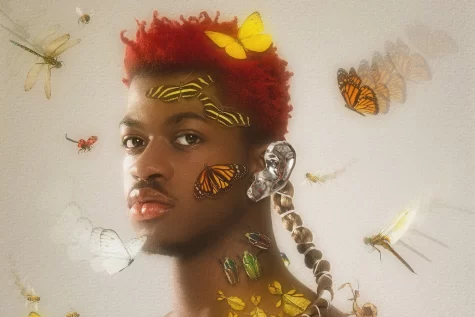 Montero. Lil Nas X's new album has cemented his career and showed that he is not just a one hit wonder. He discusses suicide, love, his rise to fame, and success all in just fifteen tracks. Primarily a pop-rap record, the album was promoted with the lead single, "Montero (Call Me By Your Name)," which debuted at the top spot of the Billboard Hot 100.
Lil Nas X, real name Montero Hill, has grown exponentially from "Old Town Road," diving deeper into topics of his personal life such as his sexual orientation. As a gay artist, Lil Nas X describes his love for a man and the struggles he faces as an African-American gay male in the title track and "THAT'S WHAT I WANT." Another topic on the album is the contrast between Hill's life before and after fame. Specifically, the well-composed tracks "DEAD RIGHT NOW" and "VOID" offer an insight to fame that no artist has shown before. "VOID" is a song written as a letter to Lil Nas X's past self, alluding to struggles early in his music career, while "DEAD RIGHT NOW" discusses how people who knew Hill before "Old Town Road's" success only reached out to him after he became famous. Lil Nas X dismisses these people and their intentions, proclaiming the chorus,
"I'll treat you like you're dead right now."
Hill also embraces his fame in a more positive light with tracks "DOLLA SIGN SLIME" and "INDUSTRY BABY."  The two share both a confident, dignified voice with slick melodies and lyricism.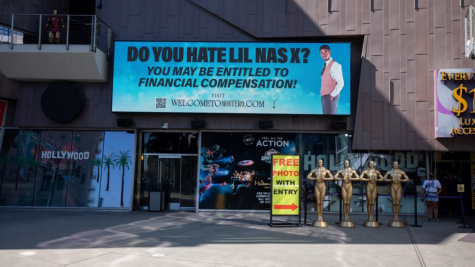 A particularly stunning aspect of Montero was its rollout and promotion, with spoof billboards to fictional talk shows and everything in between. In July of 2021, Lil Nas X used recent controversies following the release of "MONTERO" to set the scene for his next single, "INDUSTRY BABY." The music video features a mock court trial where Lil Nas X is sent to the fictional Montero State Prison where he manages to escape with the help of featured collaborator Jack Harlow. Billboard signs in multiple cities promoted the album as parodies of various other billboard advertisements, with a link to the album's website. A couple weeks before the release of Montero, Hill also had a faux pregnancy photoshoot, where he revealed that he was "pregnant" with his debut album. On the night of the album's release, Lil Nas X appeared on the fictional Montero Show, where the show's host, Montero, (played by Hill) talks with Lil Nas X about his recent "pregnancy" with his album. The show concludes with Hill "giving birth to the album on air" as the actual album itself is released worldwide.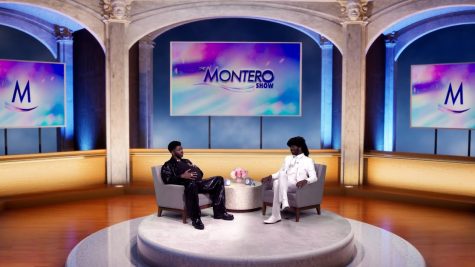 Lil Nas X himself acknowledges the wild rollout for Montero in one of the album's tracks, "SCOOP." The hook is quite a statement, with Hill singing,
"
Understand I'm just tryna be the daily scoop!"
— Lil Nas X
The album truly is a full reflection of Lil Nas X in the past three years, with Hill showing many facets of himself that we weren't able to see in his "Old Town Road" era. In addition to the album being well written and executed, Lil Nas X was able to build up a great amount of anticipation for the project in a way that no one ever has. Montero stands out because of the interesting, eye-catching ways Hill tells the story of himself, ultimately separating from his past into a new era of authenticity.