My Impression of Hunan Impression
My family and I were sick of our all-carbs diet during our recent pre-pandemic family trip throughout Europe. By the time we visited Italy, we could barely choke down ravioli without groaning. We needed a change. During our second day in Italy, we dined at a Hunan restaurant right next to our hotel. We jumped right in and devoured the dishes because every one of us secretly coveted spicy Asian food we normally ate back at home. The hypnotizing taste of this new palette brought us back for dinner the following day. 
A few months later, we were quarantined and my mom ran out of different cuisines to feed us. Basically, it was either starve or eat the same thing I ate for the past month. That's when my dad found a restaurant in our neighborhood named Hunan Impression, which instantly brought back my experience in Italy.  Like starved vampires, my family's eyes flashed and we started drooling at just the thought of the food. My dad quickly ordered and went to pick up our food.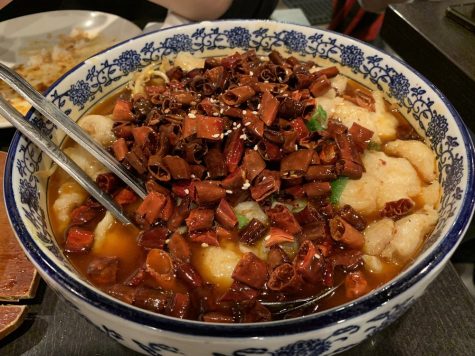 My parents ordered three dishes: fish fillet with flaming chili oil (水煮鱼片), Kung-pao chicken (宫保鸡丁), and Hunan style sautéed beef (小炒黄牛肉). My mom transferred the fish fillet into a bigger pot, and the glistening oil caught my eye. When she set the pot down, my pair of chopsticks shot out and reached for the first piece of fish. The spicy boneless fish instantly broke into multiple soft pieces that literally melted in my mouth. As expected, the chili peppers made the fish incredibly spicy. As I gulped down cold water, there was an interesting tingling sensation in my mouth that I found myself enjoying. I assumed it was from the chili peppers the fish was submerged in, but it was actually Sichuan pepper. Sichuan pepper is a numbing spice that is used commonly in the cuisine of China's southwestern Sichuan Province. The chemical compound hydroxy-alpha sanshool in the Sichuan peppercorn is what gives off the signature numbing sensation.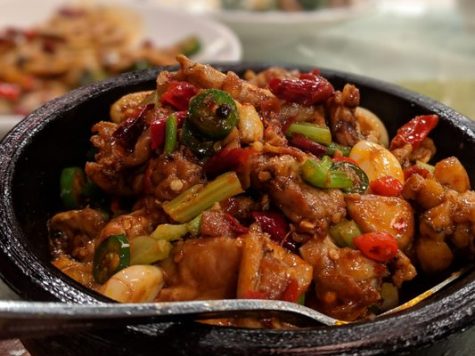 As I chowed down more of the mega-spicy fish, I saw my sister gobbling up all of the Kung-pao chicken. Wondering how delicious it must have been for my sister to devour the chicken, I reached for a piece. The chicken was more sweet than spicy. But the one that beat all the foods on the spicy scale? The Hunan style sautéed beef. At first bite, it's the least spicy of the three. But wait a few seconds, and surprise! It had the most mind-blowing delayed hit of spice. It was a different type of spice, because the beef was submerged in green wild chili, instead of the red like the fish. However, this dish did not provide a numbing sense when I ate it. Additionally, the beef was more chewy than soft, and some parts of the beef were still light pink.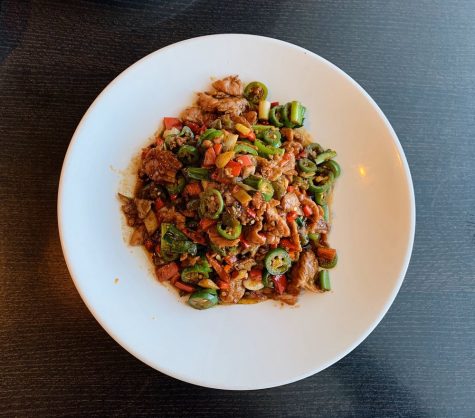 Everything was so strong with flavor and spice that it was hard to tell what I was tasting after a few minutes passed. I had already finished around 4 cups of water, and my family constantly made fun of my beet-red face and sweaty nose. 
Ultimately, if I were to choose one dish to stick to every time I eat Hunan cuisine, it would definitely be the fish fillet with flaming chili oil. I loved the tingling sensation after gulping water —I purposely drank water after each bite just to experience it again. The new taste of the tender fish kept me reaching for more, and the spiciness was just enough for me to handle. In this dish, there were also bean sprouts and lotus roots that were still crunchy and fresh, which brought out the flavor of each. The fish also had no bone, which reassured me that I wasn't going to choke on one. The taste of the fish was simply exquisite: perfectly spicy and tender to the touch.  The Hunan style sautéed beef was my second favorite. The portion was generous and the beef was soft and perfectly sautéed. However, the dish was a little too spicy for my taste buds, and too spicy even for my stomach. I immediately grabbed the cup of water and stayed away from the dish for a while to recover from the spicy blow. Despite the spiciness, the chewiness and tenderness of the beef made me crave it even more.
Although all of the dishes were delicious, the Kung-pao chicken was my least favorite. Sure, it was a good "cooling off" moment for my taste buds, but it didn't have a unique taste. Additionally, this chicken was submerged not in peppers, but peanuts. It's not that I don't like peanuts, but the ratio of peanuts to chicken was around 2:1. In other words, there were too many peanuts and too little chicken. 
 All told, my family enjoyed the meal, and we started to order the same trio of dishes every once in a while. Each time I savor my favorite dish, I wait for the interesting numbing sensation I haven't been used to. In actuality, I don't think I will ever get used to the feeling. The beef will challenge my tongue to a spice tournament, and the wonderful flavors of the dish will win over the spices and leave me yearning for more. I will top everything off with a cooldown: the sweet, mild sauce of Hunan Impression's Kung-pao chicken will make me close my eyes and sigh "mmmmh."