Kamala Harris: The First Woman of Color on a Presidential Ticket
As a political pioneer in the realms of both gender and race, Kamala Harris' nomination strikes a meaningful chord among minorities everywhere.
On Aug. 11, Democratic Presidential Candidate Joseph R. Biden announced that his running mate would be California's Senator Kamala D. Harris. In the wake of recent racial outcries over police brutality, the 100th anniversary of the 19th Amendment's ratification (granting women the right to vote), and the loss of a key feminist revolutionary and Supreme Court Justice Ruth Bader Ginsburg, Biden's selection is of unique significance. Kamala Harris is the first Black woman and the first person of Indian descent to be nominated as a vice presidential candidate. In 2016, Harris was the second African-American woman and the first Indian-American to be elected to the Senate. In these respects, Ms. Harris is breaking down gender barriers just as Susan B. Anthony and Justice Ginsburg did. It is also worth noting that Kamala is the first woman of color ironically to be nominated to national candidacy in the first-world U.S. while third-world India (her country of ethnic origin) has all along had female prime ministers and presidents since the mid-1960s. She could potentially lead us into a new era of female leadership; this could change how the U.S. as a progressive first-world country is behind other countries in its incorporation of female leaders. Her transcendence of gender and race bias prompts many to view her as a true inspiration and as a potentially groundbreaking leader.
Kamala Devi Harris was born in 1964 to immigrants—Jamaican Donald J. Harris, and Indian Shyamala Gopalan. Her father became an economics professor at Stanford University, and her mother was a scientist and cancer researcher at the Lawrence Berkeley National Laboratory. Although Kamala's parents separated when she was five, they both raised her to appreciate her bi-racial identity. Both parents took their daughters on trips to Jamaica and India, teaching them about their heritage and cultural roots. As an alum of Howard University, a historically black college, Kamala has described her time there as "formative" to her growth as a Black woman.
In light of recent racial justice movements, Kamala Harris has spoken up about systemic racism within America; some have challenged her for pulling "the Black card," insinuating that her concern was not genuine, but rather, political. However, Ms. Harris has historically shown a profound appreciation for her Black identity. In a 2016 interview with The New York Times, Harris described her upbringing by her Indian mother: "She had two black babies, and she raised them to be two black women." Her family also greatly informed her political views. In fact, her parents actually met through their involvement in civil rights activism and her grandfather served as an Indian diplomat who passed on his progressive ideals to Harris.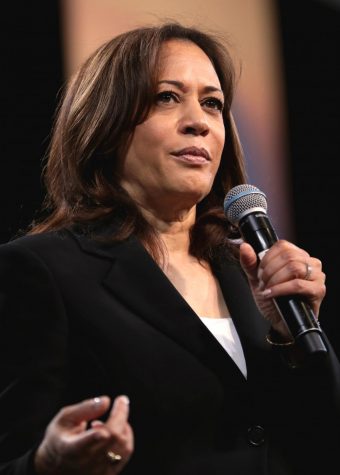 Kamala Harris's politically charged upbringing inspired many accomplishments within her public service career. As California's Attorney General, she won a historic $25-billion mortgage settlement, citing inappropriate foreclosure practices within the nation's top five mortgage companies. This case assisted more than 84,000 families with benefits such as  debt reduction. As San Francisco's District Attorney, Harris established a Hate Crimes Unit which prosecutes hate crimes against LGBTQ teens. She also established California's first Bureau of Children's Justice; she has prosecuted transnational gangs that traffic humans, drugs, and firearms; and she has exposed racial bias in the death penalty and worked to reform California's criminal justice system. 
While her political achievements and dedication to helping everyday Americans are evident, like most politicians, she has drawn criticism. She stalled the sale of the drowning nonprofit Daughters of Charity hospitals, allegedly in favor of the Service Employees International Union in exchange for $25-million campaign contributions and the promotion of her own political agenda. Ms. Harris has also been quite self-contradictory when it comes to her views on policing.
According to The New York Times, in her 2009 book, Smart on Crime, Ms. Harris wrote, "if we take a show of hands of those who would like to see more police officers on the street, mine would shoot up…virtually all law-abiding citizens feel safer when they see officers walking a beat." However, following the aftermath of the death of George Floyd earlier this summer, she flipped on that position stating in the same paper, "it is status-quo thinking to believe that putting more police on the street creates more safety. That's wrong. It's just wrong." During her prosecutorial career in California, she was known for being tough on crime and promoting education to combat it, but her views seem to have changed quite drastically following the recent racial issues that have taken place.
As a political pioneer in the realms of both gender and race, Kamala Harris's nomination strikes a meaningful chord among minorities everywhere. She is vocal about her desire for an America in which everyone is treated with equity and respect, a nation where all have equal opportunity and access to opportunities, regardless of gender, race, or sexual orientation.
Despite her prior achievements and unique cultural background, many criticize her for ambiguous and often conflicting views on policing, claiming that she is using her ethnicity to score political mileage. With all things considered, we'll see what America thinks of Kamala as they take to the polls on Election Day, which is now less than a month away.
President Trump himself put it best: "She was my No.1 draft pick…and we'll see how she works out."