Online Initiatives
September 30, 2020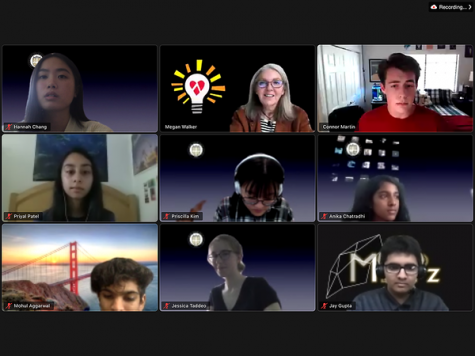 In fact, the online context has introduced the possibility of using different virtual platforms like Zoom to meet with legislators and social media avenues to more effectively advocate during these times. The shift online eliminates limitations like transportation and commute time, which means that MAP can attend more legislative meetings throughout the entire year as well as bring more MAP members to those meetings. This flexible schedule is especially important when it comes to the local front, as frequent meetings with local legislators can allow us to push harder for local policies on a more grassroots level. As MAP Co-President Connor Martin remarks, "A lot of work gets done on the local level–I think that's where MAP can have the greatest impact."
The advocacy scene has similarly advanced rapidly into the digital space. In the digital realm, MAP has invested in different online platforms, reorganizing communication networks and utilizing mediums such as their website and social media (follow @mittyadvocacyproject on Instagram!) to consolidate information and better raise awareness.
Over the summer, team members Erin Larmore and Amy Gruber produced a video series for the Mental Health's team digital campaign on healthy coping mechanisms during quarantine. Erin shares:
"Before the quarantine was set in place, the mental health team was working on developing a curriculum teaching students about mental disorders, stress, how to reach out for help, and coping mechanisms. We planned to teach this curriculum during the week before finals during religion classes to replace the Mind, Body, and Spirit unit, which was a curriculum found to be relatively unhelpful for students who wanted to manage their stress.
"However, once in quarantine, we decided to shift the curriculum focus to maintaining good mental health during quarantine by going over numerous skills that could help people, including cognitive behavioral therapy, meditations, and exercises, as well as providing resources that could help students gain access to mental health services (links to organizations that could locate more affordable therapists in your region, organizations that help pay for medication, and meditation apps). The video series was aimed at students in particular in the hopes that amid the stress and changes they were experiencing at school, they would be able to at least alleviate their stress and anxiety by using some of the skills we covered."
MAP Mental Health Team
"
A lot of work gets done on the local level–I think that's where MAP can have the greatest impact."
— Connor Martin, MAP Co-President
Other accessible sites like the BLM resource bank that MAP compiled in a carrd.co over the summer, in response to the resurgence of protests against police brutality and racial injustice, provide numerous awareness-raising and self-education resources. At large, MAP has dedicated a significant amount of effort to implementing and sorting out various communication channels to ensure that everyone, both MAP members and the overall Mitty community, can stay passionate and involved.