A rebirth, a celebration, a lawless, ultraviolet circus imbuing its viewers with all-encompassing joy is what Renaissance is, and Beyoncé is its ring-master.
 The Renaissance tour launched in Stockholm, Sweden on May 1, 2023, and made its final touch down in Kansas City, Missouri on October 1, 2023. The Renaissance Tour's glimmering, silver rocket flooded Europe and North America with economic prosperity. The Renaissance Tour generated more than $4.5 billion internationally, more than the Beijing Olympics, and grossed $579 million, more than The Eras Tour and all of Michael Jackson's tours combined. Making it the seventh, highest-grossing tour of all time and Beyoncé the only black artist to gross more than $500 million in a single world tour. Astonishingly, she accomplished this in just 56 concerts in 39 cities. Even more impressive, most of these sales came before Beyoncé had said anything to us, the BeyHive.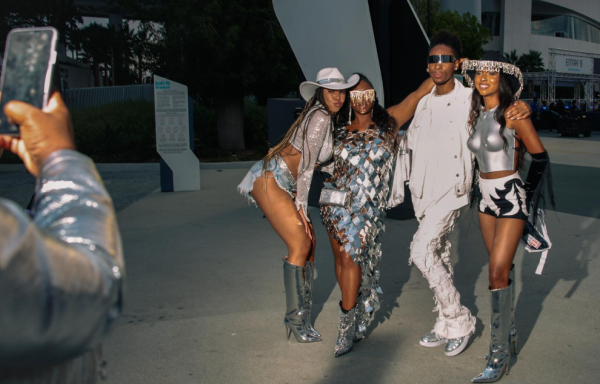 Then in late August 2023, Beyoncé addressed us directly, like an eclipse in rarity and Christmas in the level of excitement it creates. She asked the BeyHive to come to every concert of the Renaissance tour donned with silver. The "Bey Area" succeeded. On August 30, I saw the Levi Stadium overflowing with silver bags, chromatic makeup, diamond-encrusted hats, eye-catching chrome shoes, and practically anything that sparkled. That night, Levi Stadium was transformed into a glimmering beehive, housing Beyoncé and the Beyhive's dazzling energy. Everyone understood the assignment, no matter if your wardrobe was drowned by beige and black or if your "everyday" wear was neon go-go boots and 12-inch acrylics.
The anticipation only grew as my friends and I got to our spots. We were lucky enough to score Bey Hive A tickets—premium tickets to say the least. We knew from our seats alone that we would get our money's worth. However, we weren't prepared to be overcome by joy, energy, and pure ecstasy when Beyoncé ascended the stage. She rose, microphone in tow, dressed in a short, shimmering black dress and a matching red headscarf. The crowd behind us roared, but we were stunned. I couldn't move, blink, or breathe. It was like I had flown dangerously close to the sun, but I couldn't stop myself from flying even closer. Beyoncé's overwhelming presence consumed the 20 feet or so that separated us. Then, as the backing track accompanied her rise, Beyoncé sang. The rest of the night was like a dream, only accessible through the many videos my friends and I took. The rapture that ensued shook every bone in my body to dance and sing the night away. In actuality, I remember little, but the euphoria imprinted on my body from that night is, and always will be unforgettable. However, that wouldn't be possible if Beyoncé wasn't the Beyoncé.
The Beyoncé whose catalog of remarkable eras are highlighted by her seven solo albums and 83 singles. Her 33 Grammys are practically accessories compared to the worldwide cultural impact her eras have had, a cultural impact which was essential to cementing Beyoncé as the modern-day Michael Jackson. Her career is a living, breathing museum—one which never rejected ideas or feelings, but saturated every note, riff, beat, or high note with their influence. That's how Beyoncé was able to transform the first song of the night "Dangerously in Love 2" from Beyoncé's love letter to Jay-Z to a love letter to the Beyhive; every one of her accolades, every opportunity she seized, and the pure, unadulterated joy in every one of her songs, which she transformed into a renaissance of herself and her music.
"
Songs that not only ignite communal black joy but touch on the oppression and racism that force us to do so through musical escapism. Beyoncé's album has been that source of escapism for black and queer people.
A renaissance of hip-hop, disco, house, NY vogue, Jamaican ballroom, hyperpop, and dance that brought voices like Donna Summer, TS Madison, Kevin Aviance, Princess Loko, The Showboys, Moi Renee, and Grace Jones into her infectious light. Her light welcomed all her eras to sing proudly with her that night. Whether she was "Drunk in Love," "Sorry," or a "Diva," every song was revolutionized to inspire movement, freedom, exhilaration, and transcendence while still fostering comforting nostalgia. Every note was marked with essences of uniqueness, sexuality, and confidence. Simply, the album is a rebirth of all that makes music pure, unadulterated fun, and the concert was the paramount of those exhilarating feelings. 
Queen B inspired irrepressible black joy and allowed queer culture to finally take center stage. Kevin Aviance's "C*nty" and Moie Renee's "Ms.Honey" were both featured on "Pure/Honey." Two black men were drag artists in the New York '90s club scene. Donna Summer, a black woman whose disco music hallmarked black and queer culture, is featured on "Summer Renaissance." The gritty and invigorating sounds of underground black artists of the '90s and '00s were staples on songs like "COZY," "America Has a Problem," and "Church Girl"— songs that not only ignite communal black joy but touch on the oppression and racism that force us to do so through musical escapism. Beyoncé's album has been that source of escapism for black and queer people. However, the Renaissance tour harnesses that cozy feeling to create a worldwide stage for queer culture.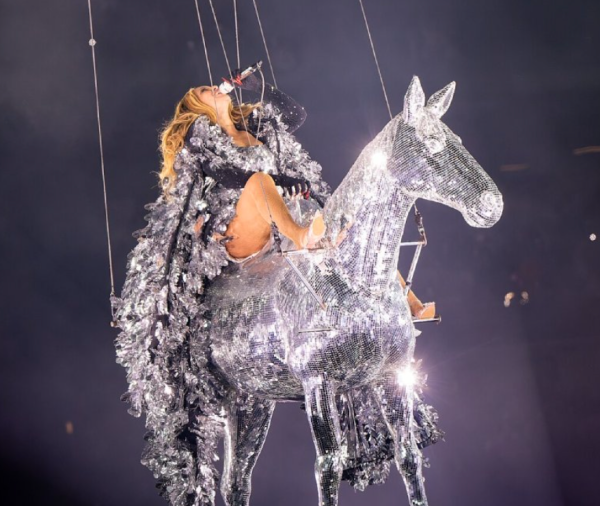 The Dolls proudly stepped onto that stage during the electric Ballroom Set. Honey Balenciaga Jonté Moning, Darius Hickman, and Carlos Irizarry duckwalked, dipped, and twirled all in the face of the murders of O'Shae Sibley and Laura Ann Carleton. There was no stopping the power channeled by the bodacious dancing, astonishing wardrobe, elaborate stage, electrifying music, or Beyoncé's enchanting vocals. The power of Renaissance flew through us that night and at the end, Beyoncé flew into the night sky on a silver horse absolutely dripping in jewels. She reminded us that the feeling we felt then of confidence, safety, love, and pure joy was sacred and that we could "Return to it anytime." 
No matter your race or identity, Beyoncé's Renaissance album walks you to the doors of escapism, opening them whenever you press play; however, the concert destroyed the need for those doors. Instead, it let every corner of my brain spill in and out of the chromatic pools of euphoria Beyoncé flooded me with the night of the concert. Now, every time I see silver, hear "Heated," or imagine The Renaissance, the pools erupt— cascading shimmering waves of joy, nostalgia, confidence, uniqueness, and pride through every fiber of my forever, BeyHive being.