Baseball: The Mitty Way
Pride, respect, and tradition have been the hallmarks of the baseball program for decades. Winning has followed.
Mitty's baseball program is one of the most successful among high schools in California, having won 8 WCAL championships and 4 CCS championships. Its ascendance, however, did not occur overnight. Led by Coach Bill Hutton in the '80s, and continued by Coach Brian Yocke since 2016, the core tenants of hard work, perseverance, and pride have been ingrained into the program through years of commitment and dedication.
"The goal is to be proud to wear the uniform, earn the respect of those who wore it before, and build on the tradition for those coming after," Coach Hutton says. "It wasn't easy developing into what we as Monarchs are today, and what's become known as The Mitty Way in baseball."
From Mitch Haniger of the San Francisco Giants (Class of '09) to Kris Bubic of the Kansas City Royals (Class of '15) as well as Nick Yorke of the Boston Red Sox (Class of '20), The Mitty Way has resonated with players throughout the years because it has turned them into exceptional competitors on the field and excellent men off of it.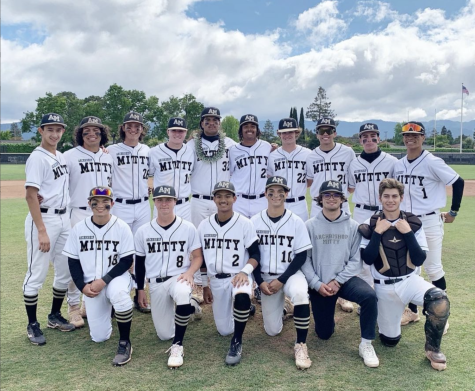 "A lot of our team's success comes from the tradition and values of The Mitty Way," proclaimed senior pitcher and San Jose State commit, Kyle Scritzky. "Whether it's at a practice or in a game, we pour our hearts and souls into doing everything the right way all the time." 
This unwavering pursuit to be their best selves has carried Mitty baseball to a 20-6 record this season, making them the 14th best team in the state, according to MaxPreps. This year's squad features a quality pitching staff, a fundamentally-sound defense and an opportunistic offense that can light up the scoreboard. Junior pitcher, Luka Pintar, has been especially impressive on the mound, with a 1.04 ERA and 52 strikeouts. The lefty, who's committed to San Diego State, believes that their attention to detail is what sets the Monarchs up for success.
"We are trained to be physically and mentally prepared for whatever challenge comes our way," commented  Pintar. "As long as we trust the process and do all the little things to better ourselves every day, we will show out during the game."
Following this philosophy, Mitty looks to continue its dominating ways as the WCAL and CCS playoffs are fast approaching. Senior shortstop and UC Berkeley commit, Jarren Advincula, is confident that this year's club can be championship contenders.
"Every season has its ups and downs, but this team has demonstrated a resilience to bounce back from setbacks and thrive," declared Advincula. "We've got a gritty, blue-collared bunch of guys who are willing to do whatever it takes to win, so I think the sky's the limit for these grinders."
In addition to their smart, disciplined and selfless approach, the Monarchs showcase an intangible quality that has been a key ingredient to winning. 
"Not only does this great group of young men work really hard everyday, but they love each other like brothers," Coach Yocke indicated. "I am so proud of how they've bonded and worked together as a team with one heartbeat."
Such cohesiveness isn't a surprise when considering how the collective passion for excellence has become so deeply rooted in the baseball program's culture. It is The Mitty Way.