Senior Reflections
Brief reflections from current seniors on their years at Mitty.
As the 2022-2023 school year comes to a close, Archbishop Mitty seniors take the time to reflect on their past years. From discussing their self growth through the years to reminiscing on cherished memories made, it is clear Mitty has had a lasting impact. Best of luck in your future endeavors, Class of 2023! 
How do you feel you have changed or improved on yourself from freshman year to now?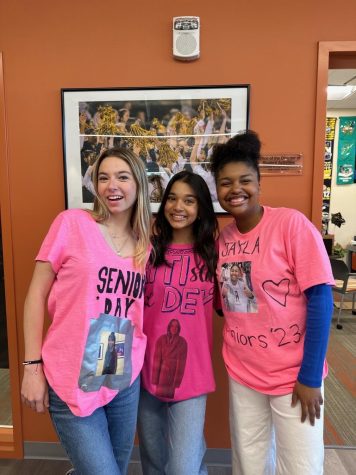 Riti Dey—I remember in freshman year I was really shy when I came to Mitty, and I wasn't like that before. Mitty was so much bigger than my middle school, and I just felt very small. So in freshman and sophomore year—especially because of covid hitting us in the middle of freshman year—I felt nervous about everything and kind of anxious all the time. However, I think junior year is really when I grew into myself here at Mitty because I knew my set group of friends, and I would go out and talk to new people. I really spent my freshman and sophomore year involving myself in performing arts, speech and debate, and student government. By junior year, I had already known that environment, and I adjusted so it was easier for me to reach out to people. So, overall, I've changed and improved over the years by putting myself out there more over time and opening myself up to those in our Mitty community.
Luna Anderson—Overall, I believe I gained a lot of confidence in myself and who I am as a person throughout my years at Mitty. From what I say to the little things like what I wear, I've definitely become more comfortable in my own skin. This sense of trust and comfort in my capabilities has spread into other areas of my life like my ability to surround myself with friends who care for me and put more effort and confidence into the work I do. I also learned a lot of discipline and how to lean on the people around me when I needed help. However, most of all, I learned that spreading and sharing kindness really goes a long way.
Is there a certain program or activity at Mitty that has helped you find something you enjoy and are passionate about?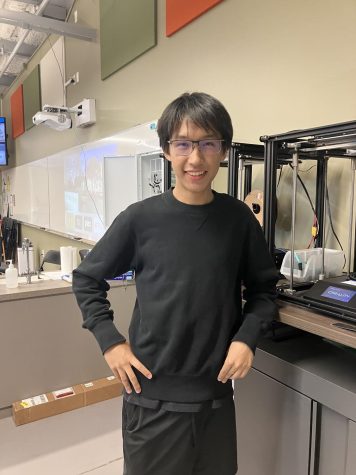 Andy Li—Throughout my years at Mitty, robotics has genuinely inspired my passion for software and engineering in general–so much so that I am planning to major in it in college. It has also taught me leadership skills and how to work with other people in a team setting which is an invaluable skill to have no matter what you do in the future.
Riti Dey—Yes, that would be student government. I've been doing student government at Mitty since freshman year and it is something that I have done my entire life since third grade. Yet at Mitty, it is so different. Student activities and student government are a pretty big deal and are such valuable aspects in making Mitty what it is. I get to be with this group of nine individuals where we plan various activities, we argue, we laugh, we cry, and we become best friends. In this group of nine people including myself, there are people from athletics, performing arts, speech and debate, and we all come together to help bring everyone else together. What I realized is that I'm passionate about the relationships that I form, and I feel like they are really important—Student government is what contributed to this realization.
How has the pandemic impacted your high school learning experience and what hardships have you encountered? 
Clara Schultz—Well, socializing during this time was hard due to covid restrictions, and there was not much opportunity to meet new people like some people are doing today in their classes. A lot of my friends and I were not as able to connect with everyone. It is similar to Kairos in the sense that it made me realize how important it is to appreciate small things. Most people were tired and bored during that time.
What is your most memorable time here at Mitty? 
Clara Schultz—Kairos in particular was a great experience to bond with my classmates, and I've become really close with some new people from it. One of the best parts about it was the fact that Kairos didn't give you the chance to worry about time. Time there was different and we learned to live in the moment. I thought that was really nice because we never had to worry about it ending too early or thinking about how we couldn't stay there forever. This is unlike some other trips you might have had.  
Andy Li—One of my favorite memories here at Mitty was at last year's Robotics banquet. It was a great opportunity to hang out and share a laugh with my friends. I got laughed at for getting locked out of a hotel room twice. Other than that, I also got to say goodbye to all the senior friends I made last year and wish them luck on their future journey ahead. It was really wholesome hearing their experiences and recognizing their accomplishments.
Now as a senior, is there any piece of advice you would give to underclassmen?
Luna Anderson—Yes, first of all, go easy on yourself especially if you are an overachiever which a lot of people here are. Always, always, always prioritize your own well being and your own health. Make sure to be kind and compassionate to the people around you and focus on what makes you happy regardless of what anyone else is doing. Most importantly, never be ashamed to ask for help because while it seems like everyone knows what they are doing, most of us are just faking it 🙂 Finally, just have a fun time! School can be fun if you make it to be!