Lana Del Rey's DYKTTATUOB: A Spectacular Mix of Old and New
A closer look at Lana del Rey's newest record and her return to her past.
About a day prior to the release of her ninth studio album, Did You Know that There's a Tunnel Under Ocean Blvd, or DYKTTATUOB, Lana Del Rey posted a video on her private Instagram account. There, she thanked fans for being steadfast listeners of her music which often told difficult stories of complex relationships filled with depression, love affairs with older men, domestic abuse, and drug addiction.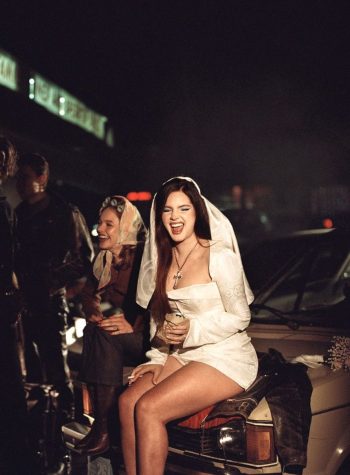 After nearly eleven years since the release of her debut album, Born to Die, Lana, now 37 years old, has grown up. Her relationships are still hard, but, on DYKTTATUOB, she focuses on the beauty of the "good life" and the complexity of a relationship with herself and those around her. A sure highlight in her discography, the record shows her maturity, newfound hope, and artistry that comes from being a veteran in show business.
As a whole, the album has a sort of "Pure Imagination from Willy Wonka" feeling to it. Imagine you're dancing on clouds, or you're all alone in an old abandoned mansion at night. You feel all there is to feel and ponder the meaning of true companionship. And, because you are alone, you also go a little insane. At its core, that's the nature of Lana's album—romantic, contemplative insanity. 
The opening song, "The Grants," named after Lana's family, is a spiritual oath to bring her love and memories of her family into the next life, "I'm gonna take mine of you with me." Filled with a haunting, reverbed piano, "Candy Necklace" featuring John Bapiste is sultry and mysterious. Lana is in love with her lover's candy necklaces—a motif for his sweet, unlasting vulnerability. Her lyrical and poetic ability is especially prevalent in "Kintsugi," a song that explores the importance, but also the melancholy of heartbreak and isolation: "But I've had to let it break a little more/'Cause they say that's what it's for/ That's how the light gets in." 
"
With the perfect combination of her evolved maturity and ability to create the perfect Pinterest girl song, the album is proof that Lana only gets better with age."
On "Paris, Texas," Lana samples SYML's folksy instrumental from his song "Where's My Love," mirroring her vocals to the piano and quietly singing of the deceit of escaping to beautiful places. Lana samples a lot of her own songs from previous albums on this record. You can hear "Love Song" from the notorious record Norman F*****g Rockwell, on "Margaret" ft. The Bleachers, and the unreleased track "Kinda Out of Luck" on "Peppers" ft. Tommy Genesis. She even sings verses from her song "Venice Bitch" on the track "Taco Truck x VB." 
The only track that I would say feels out of place is the "Judah Smith Interlude." It's not even a song, but a snippet of a sermon Smith, a pastor, gave during one of his services. It serves like a huge speed bump on a smooth road, completely disrupts the flow of the album, and confuses the listener. But, putting this aside, the tracklist on the album is stocked full of poetic ballads of love and abandonment as well as hip-hop-infused tracks to dance to ("Peppers" ft. Tommy Genesis).
 Lana's previous albums, Chemtrails Over the Country Club, and Blue Banisters were a rustic turn from her usual dark romantic themes. Fans (myself included) were worried that that Lana had disappeared forever upon the release of DYKTTATUOB's lead single, "Did You Know That There's a Tunnel Under Ocean Blvd," a ballad, hung up on being forgotten in a world that forgets too fast. But, halfway through the second single, "A&W," after the abrupt change from a folk song to hip-hop, faith was restored. The album keeps the mature nature of the two previous albums, but, rest assured, the Lana Del Rey is back again.
Overall, the record is definitely one of Lana's best. The perfect combination of her evolved maturity and ability to create the perfect Pinterest girl song, it's proof that Lana only gets better with age.