Wrestling: Physical and Mental Toughness
Mitty wrestlers slash stereotypes about the sport and give a deep dive into what wrestling is really about.
If there is one word to describe Archbishop Mitty Athletics, it would be "grit." Wrestling is the embodiment of "grit" and without a doubt, one of the most physically and mentally challenging sports.
Last year, the Mitty wrestling team had a successful season, with the women's team winning WCAL as well as multiple individual WCAL champions. According to senior Marin Garand, "Last year, it was about pushing yourself and having fun. This year, we're focusing on the pushing part and being more serious about really trying to get far, especially since more and more girls and guys are joining."
According to Garand, "A lot of people assume wrestling is a male-only sport. It isn't. While it is largely male, there are a lot of girls too."
While guys and girls can choose to wrestle against each other during practice, athletes will not wrestle an opponent of the opposite sex during meets or tournaments.
Garand notes that her choice to wrestle against male opponents during practice has personally helped her improve her skills a lot.
Wrestling requires precise concentration and focus; it's about detail and finesse. Junior Alyssia Ursu breaks down the rules: "A match works by having the two wrestlers meet in the middle, shake hands, and the referee starts the match. From there you both start to hand fight to set up for your shots, and the point here is to take the person down, get points, or look for a pin if possible. You get two points for every takedown, you get a point for an escape, and you get back points for the number of seconds you hold a pin."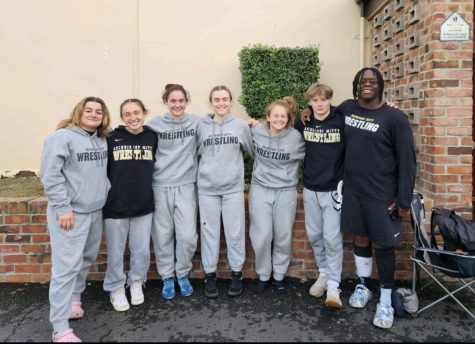 "The key to success is to push yourself past your limit to reach newer heights," notes senior Tyler Aremu. Wrestling is a grueling sport, with intense matches and some tournaments that can last up to twelve hours long!
Garand explains, "You need to have a lot of conditioning in order to do well in wrestling. We do a lot of running and lifting and overall movement, in order to get and keep in shape for the matches." Staying fit and learning new moves are two of the most important parts of training, and both present their own challenges. Ursu adds, "We work on a variety of techniques and tactics, but we specifically work on initiating our shots, meaning attacking first and being as offensive as possible. We also do a lot of standing up from the bottom position, which is when a person takes you down and you have to get up and escape to get a point."
With grit and repetition, certain aspects of footwork, moves, and blocks become automatic. The goal is to incorporate new techniques while mastering the ones you already know. This is Garand's likes most about the sport: "My favorite part of wrestling is learning new moves and putting my own spin on certain techniques and making them a little different. I'm short, so I often have to make slight differences in my techniques for me to be able to get the result I want."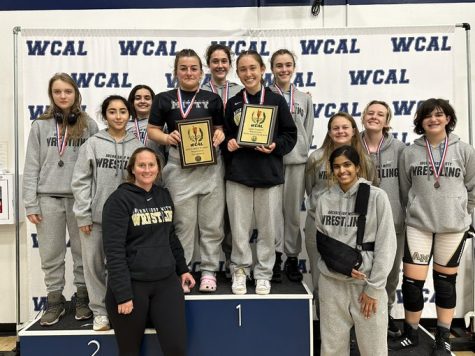 While physical training and grit are important, senior Ryan Marquardt believes that "the biggest obstacles are mental. Whether it be the will power to cut that extra couple of pounds, to keep fighting when you are put on your back, or to show up to practice everyday knowing what your coaches expect of you."
For wrestlers, the grind never stops; they have to watch their diets to maintain weight, push through injuries, and keep their minds calm and sharp.
"Wrestling is a sport that's about willpower and mastering your own mind," says Garand. "Exhaustion is an almost constant feeling in the back of your mind, and often matches come down to who gives into it first."
In wrestling, weight classes ensure that participants are competing against opponents of a similar weight, which levels the playing field. If wrestlers don't make weight, they run the risk of not being allowed to wrestle. Wrestlers often abstain from eating or drinking before weigh-in. While some fast for a few minutes, others begin the night before–and even that isn't enough sometimes! Marin humorously recounts one particular weigh-in incident: "On the day of our WCAL meet, we took a van over to Bellarmine for the actual tournament and one of our senior heavyweights, Antonio Cueva, checked his weight maybe 45 minutes before weigh-ins and he was marginally over his weight class. Coach Brett had him start running to sweat out any extra water weight. As weigh-in time got closer, everyone got more and more nervous because he still wasn't in weight. As a last ditch effort, Antonio had one of the coaches cut off at least three or four inches of his hair. He ended up making weight and getting first in WCALs!"
"
Wrestling is a sport that's about willpower and mastering your own mind. Exhaustion is an almost constant feeling in the back of your mind, and often matches come down to who gives into it first.
— Marin Garand
This year, the wrestling team has welcomed new coaches Coach Brett and Coach Juco, who have brought new energy to the team and changed the way practices look. Wrestling has expanded, with more boys and girls joining the team this year.
Garand hopes that "from this year forward, there will be a full girls team every year." Ursu notes, "The team's goal for this season was to just gain experience, wrestle hard, win league, and make it to CCS Championships, which the girl's team accomplished."
On February 18, the Monarchs officially became CCS scholastic team champions! As the wrestling team expands, however, Marquardt explains that there is still room for growth: "Wrestling does not get anywhere near as much attention as football, soccer, or basketball. Visibility and promotion are crucial to growing wrestling at Mitty, and while social media has been an important tool for this, I believe that a wrestling room would have a huge benefit for the program."