A Kpop Newbie's Take on New Jeans
Ria Sudhir ('24)—a self-proclaimed Kpop newbie—describes how New Jeans pulled her into the Kpop scene and what is so special about them
The recent arrival of K-pop girl group New Jeans has garnered widespread "Attention." The group's fresh vocals, combined with their unique concepts, helps make their music videos massive hits with over 143 million views collectively. The group features five members: Danielle, Minji, Haerin, Hanni and Hyein. The name of the group itself, "New Jeans," is unique and is said to represent both a new generation of idols as well as the timeless nature of a pair of jeans and, analogously, their music.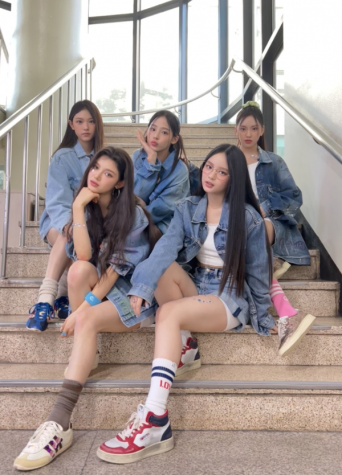 The group's debut album included "Hype Boy," "Attention," "Cookie," and "Hurt."
"Hype Boy"—the main track—features a simple music video concept without complex sets or elaborate props, accentuating their musical capabilities. The music video wasn't chaotic or overwhelming as are many others in the industry, but instead had a wonderful sense of simplicity.
"
After listening to the song just once, I've been replaying it ever since–a staple in my morning car jam. "
Despite their youth (the youngest member being 14 at debut and the oldest only 18), the group possesses remarkable talent with a perfect combo of dance and vocal skills. After listening to "Hype Boy" just once, I've been replaying it ever since–a staple in my morning car jam. Just like their group name suggests, the song itself feels timeless. It's incredibly catchy but not in the gimmicky sort of way that dates many songs. As someone who isn't an avid Kpop fan, I've begun to fall in love with this style of music, partly because of New Jeans' captivating and charismatic songs.
Their song "Attention" really is worthy and deserving of a lot of, well, attention. Again, they follow through with their nostalgic and simple concept yet deliver a fabulous and timeless masterpiece. I absolutely love the way they weave a storyline through the music video and include snippets of truly genius creative direction. For example, the video features member Danielle on a conference call when her friends "video-bomb" her and overtake the call, transitioning to a dance break in her bedroom. It's reminiscent of the dance-offs that every kid has had in their bedroom–except the New Jeans's dance actually contains the flawless moves we all wished we had at that time. The dance itself is fun, lighthearted, and upbeat, the perfect trio vibes to make a youthful song that everyone can dance to.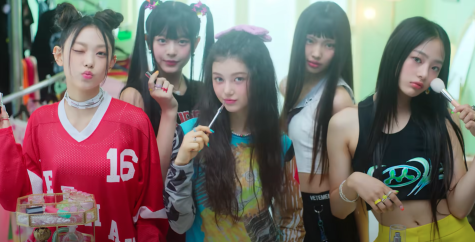 Once again, their sets aren't incredibly fancy or chaotic, rather they are purposefully relaxed, adding to the nostalgic vibe of the song. A great example is the first set: an old-timey concert exuding '90s vibes and teens simply having fun with their friends. Though it sounds like it could easily be boring, it is this simplicity that adds to the unique aura of New Jeans, making them different from other groups. 
Even though it's been less than a year since their debut they have already amassed over 20 million Spotify listeners, it seems as if the world itself has become a Hype Boy for New Jeans–including me! As a self-proclaimed Kpop newbie, it was the New Jeans' songs that made me excited for songs whose words I didn't quite understand. Regardless of the fact that I don't understand the language, I try my best to hum along; after all, music has no barriers. So, the next time you're craving some upbeat songs for your daily dance playlist, keep New Jeans in mind.