Men's Basketball: High Hopes Ahead
Varsity Men's Basketball Head Coach Tim Kennedy reflects on last season and gives a rundown of what to expect from the team this year.
Bittersweet embodies the 2021-2022 season of the Men's Varsity Basketball Team. The team had a dominant 23-6 record on the year, but fell just short of their goals in the CCS Championship against Archbishop Riordan High School. It's hard to look for what areas they can improve upon simply because of how great they played last year, so we asked coach Head Coach Tim Kennedy his thoughts on last year's season as well as his outlook on the year.
"We were pleased with our league season where we were able to win League 13-1, and then it was, you know, it's bittersweet, losing in the championship game with the CCS," Coach Kennedy commented .
Success is not only about practice but teamwork too. Last year's seniors played a crucial role in leading the team. Now that they have graduated, many of the former juniors now have to step up in leading the team, especially the new players from JV. However, the current seniors are hungry to get back onto the court this season, knowing that they left some things on the table. In addition, the team has reinforcements coming with a new transfer being eligible early next year. Coach Kennedy in particular mentioned senior Max Scharpf as a player to look out for.
Another key to staying strong throughout this upcoming season is one of the team's newfound motivations: a recent rivalry spurred against Riordan. Recalling the CCS championship loss, Coach Kennedy said the team needed to play with "more force" in the game. Force is a combination of mentality and physicality. Offensively, it means being aggressive–attacking the rim and getting paint touches; being ready to pounce on rebounds instead of just floating around the three point line. Defensively, it means being able to win and control space–not letting the opposing team cut to the basket or get deep into the paint. Coach Kennedy summed up what it means to play with force: "We're trying to control defensively where we're sending people. And then offensively we're controlling, playing downhill and getting into the paint. That's kind of what we mean by applying force. In the last two games of last season, the other two teams dictated that and we didn't." The team is attempting to create this mindset and mentality of playing with "force" in their drills and practices.
"
"We're trying to control defensively where we're sending people. And then offensively we're controlling, playing downhill and getting into the paint. That's kind of what we mean by applying force. In the last two games of last season, the other two teams dictated that and we didn't.""
— Head Coach Tim Kennedy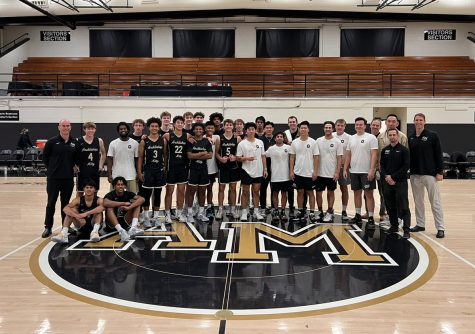 In terms of size, the team is slightly bigger than last year. Looking to capitalize on this advantage, the team aims to play a little more inside. While the team's overall game plan remains consistent with last year, Coach Kennedy explains that the team "might look at a couple of different defenses where we can throw some different things at people. From our base, we're similar but we're always looking to make adjustments and improve and make minor changes."
In addition to the team's fresh rivalry with Riordan, the team also looks forward to their classic rivalry against Bellarmine, which has a lengthy history. The team always "looks forward to playoffs and the Bell game just because of the intensity and how much every possession matters," senior Eric Brown says. Even though these rivalries can bring out nerves and excitement in the team, Coach Kennedy preached that they still try to keep the pregame setup the same, regardless of opponent, and that every game is equally important.
In our interview with Coach Kennedy, we noticed a whiteboard hanging on the wall containing a list of players with a "Three-Point License." When asked about this list, he explained that, "In order to shoot a three pointer in the game, our players, from different levels, have to have a certain standard of making threes." The requirements for this license are a 30/50 three-pointer percentage for freshmen, 35/50 for JV, and 37/50 for varsity. While that percentage may seem absurdly difficult to accomplish, Coach Kennedy clarified why it's so high: "So there's a huge decline in your shot when you're playing the game because of the pressure. [It also gives] a chance for them to improve their shot, and build up a mental toughness. It just gives you more confidence that you [shoot] better so I think it's kind of helped us and paid off for guys being able to shoot with high confidence."
Last season the varsity men's basketball team was as connected as ever, as evidenced by their deep playoff run. But this year the team will need to rebuild their chemistry with each other and adjust as they figure out who is going to replace the vacancies in the team's leadership roles. Coach Kennedy mentioned that, "Right now, some of the seniors are stepping into leadership roles, but it's really a whole team effort when it comes to that." This connection as a team translates onto the court offensively and defensively: they begin sharing the ball on offense and playing in sync on defense.
Acknowledging the team's efforts to connect with each other, Brown commented, "The team does things outside of practice like going on Jamba Juice runs and hanging out at football games." Whether the team will be able to mesh together successfully is one of the biggest question marks going into this season. The team has no shortage of talent, so if they are able to accomplish this, a successful season is sure to follow.