A Step Forward: MAP's Trip to Washington D.C.
Washington D.C. is where everything happens, transforming our country and altering our everyday lives. It's the holy grail for any advocacy group. After a three-year pandemic hiatus, the Mitty Advocacy Project's annual trip to Washington D.C. has returned. MAP members seniors Anya Danes, Ahilan Karuppusami, Matthew Maranowski, Maria George, Rahul Ramarao, Amara Fernandes, sophomore Varshitha Lingala, and teachers Mr. John Marheineke and Ms. Jennifer Wallace met the legislators and leaders of our nation, presented federal proposals, and united with other students in their shared beliefs, all while having the experience of a lifetime.
On Oct. 22-24 the group attended the Ignatian Family Teach-in for Justice at D.C., hosted by the Ignatian Solidarity Network. The ISN's mission is to connect, teach, and foster social justice advocates on Jesuit beliefs. Over 2,000 attendees from all over the country convened—seven from Mitty's advocacy project—to voice their thoughts regarding the future of our nation. This year, the theme of the conference was Rooted and Renewing, calling attendees to reflect on the Teach-in's history and legacies left by those before them.
Keynote speakers Bill McKibben, Maka Black Elk, and Olga Segura spoke on climate change, the past abuse towards the Indigenous population, and racial justice, respectively. At the end of the conference, the attendees celebrated a Sunday mass, connecting their faith with the justice they strive for.
Not only did MAP meet social justice advocates who strive to change our country for the better, but they also played an integral role. Out of MAP's seven attendees, only one had attended a legislative meeting before; this opportunity was a huge step toward legislative advocacy. They met with Anna Eshoo, San Jose's representative in Congress, to present a policy proposal on climate change and discuss other issues such as drug pricing. Their proposal pushed for additional federal spending on methods of refrigeration to mitigate climate change.
The shared experiences were also an important takeaway for students. Maria George says, "It was really surreal to be in Washington D.C. and see all the amazing architecture and historical buildings in the nation's capital." About attending mass with thousands of other students,Anya Danes—a co-president of MAP—reflects, "I thought it was very beautiful that a lot of people were here because they had a similar belief in God or just grace, and wanting to give that to other people is why they were there." Students from all over the country became more than the sum of their parts, whether in their faith or their shared goal: the greater good.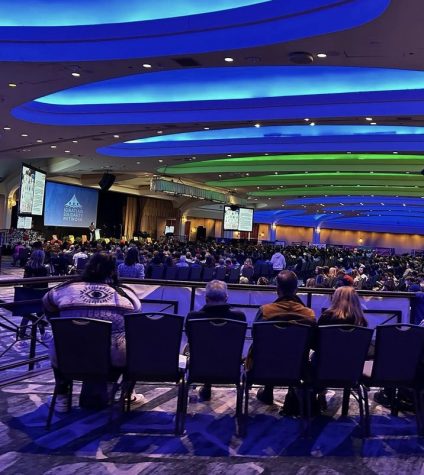 The trip to D.C. was a culmination of MAP's hard work and a rewarding first step, but it is certainly not the last. With an in-person legislative meeting under its belt, MAP is ready for more. This year, Mitty will host the Bay Area Teach-in for Justice, which was held at Saint Ignatius last year. The Teach-in brings justice advocates in the Bay Area together in their common interests to discuss current social issues and better our country. MAP is also planning a trip to the state capital. Perhaps the most profound takeaway is the unity found in students' shared passion—advocating for a better future for current and future generations.