Spotlight: Ellie Kleinheinz, Fast and Fearless
Mitty student Ellie Kleinheinz is quickly climbing the ranks of the Team USA Luge Team.
Being fearless is a mindset that defines many great athletes. Ellie Kleinheinz's indomitable spirit and competitive energy have catapulted the Mitty sophomore into becoming a rising star in luge for Team USA. Her ascent in the sport mirrors the speed at which she races down a luge track, already having won gold medals in the Empire State Games and the National Youth Championship. Remarkably, she learned to be a luge slider just four years ago.
It was on a whim that Ellie's father signed her up for a USA Luge clinic that came to Palo Alto when she was in middle school. Never one to shy away from trying new things, Ellie thought, "Wow, that's random. But let's give it a shot. It could be fun."
Luge is a sport where an athlete lies on a sled, in a supine position with their legs pointing forward, and races down a curved ice track that's almost a mile long. Since there are no ice tracks in California, the clinic's participants slid down hills of asphalt on sleds with wheels. While it was tricky at first, Ellie remained undaunted and learned the ropes quickly–something that the USA Luge coaches took notice of. These types of events are conducted annually across the country not only to introduce luge to a fresh audience, but also to identify potential new recruits for the national team. About a month later, Ellie was pleasantly surprised to find out that she was invited to the US Olympic Training Center in Lake Placid, New York for an official try-out.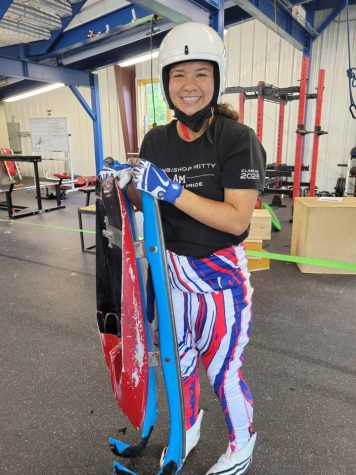 "I never imagined that I'd be chosen," she admitted. "But as soon as I got to try luge on the ice, I loved it. Nothing compares to the rush of whipping down an icy track at high speeds."
Despite the difficulty and danger of the sport, Ellie took to luge like a duck to water and was one of fifteen athletes selected for Team USA's Luge developmental team.
"You could tell right away that she was naturally athletic," said Aidan Kelly, USA Luge's head of development. "Her focus and determination stood out as well. She took what we taught her and put it to work right away. Ellie is a coach's dream."
The COVID-19 pandemic forced competitions to be shut down in 2021. However, in 2020 and 2022, Ellie won gold in the Empire State Games in Lake Placid as well as at the 2020 National Youth Championship in Park City, Utah. It's fitting that her sled is red with a decal of Lightning McQueen's catchphrase, "Ka-chow!" affixed between the blades underneath. Much like Disney Pixar's famous racecar, Ellie is all about speed. Since luge is a sport that's timed to the one thousandth of a second, being fast is essential for success. It is also necessary to have substantial core strength, sturdy muscles in the upper and lower body, and unshakable mental fortitude to handle the gravitational push while guiding a sled that's blazing down a rollercoaster of a track at 60 miles per hour.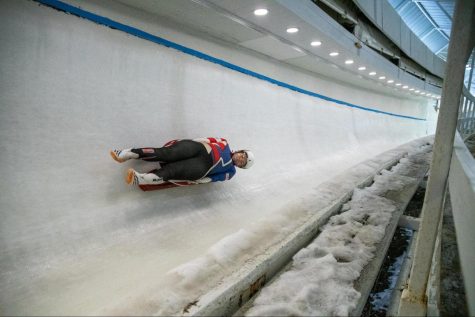 Ellie's athleticism and physical stamina can be attributed to playing multiple sports from an early age. Growing up, she competed in soccer, basketball and softball. At Mitty, she's been a standout goalie in field hockey and a catcher in softball. Being a multi-sport athlete has enabled her to strengthen various parts of her body and to stay in tip-top shape year-round. However, balancing all of her interests along with school has been a challenge.
"It's difficult to juggle everything, so it's important that I manage my time and tasks," said the 15 year-old. "I'm just very thankful that my teachers and the administration at Mitty are so supportive of me and my goals."
Ellie was excited to return to Lake Placid this past November to continue training and building her luge skills. The stakes were raised during this two-week session because Team USA set up a contest to decide who would qualify for the European Continental Cup, which is where the world's best luge sliders, between the ages of 14 to 17, compete each year. The top five sliders at Lake Placid would be invited to take part in the competition abroad.
With a chance to race in such a prominent event, Ellie and her teammates all brought their "A" game. The competition was fierce, with many setting personal records. Whether it was listening to the latest hits of Taylor Swift during her warm-up routine, or simply having the sheer determination to win, Ellie was a force that would not be deterred. Her top two runs were timed at 46.658 seconds and 46.492 seconds, which placed Ellie in the top five.
Team USA Luge assistant coach Jayson Terdiman was dazzled by Ellie's performance and said, "To show up here and perform like she did, without any summer training due to other commitments, was extremely impressive. She brought her best on race day and her mental toughness really showed."
Ellie's next step on this journey will be traveling to Latvia and Austria for the European Continental Cup. In early 2023, she'll compete in the North American Cup in Canada. If Ellie earns enough points in either of these luge circuits, she will be invited to South Korea to race in the Youth Olympic Games in 2024.
Ellie's ultimate dream is to become an Olympian like former Monarchs Kristina Lum (Class of '94), Kerri Walsh (Class of '96), and Polina Edmunds (Class of '16). However, she admits that just having all of these unique experiences has been a dream in itself. Visit TeamEllieUSA.com to continue following her adventure.