Volleyball: Learning from the Past, Looking to the Future
Coming back from an amazing season last year, the volleyball program has continued their success thus far for yet another impressive season.
The Mitty Women's Volleyball team has had a long history of success: from when Kerri Walsh Jennings (class of '96), a three-time Olympic gold medalist, was a student to just last year when the varsity team were champions of the Northern California Section. This legacy that the program has built and their continued commitment to constantly improving their game, both mentally and physically, have been the biggest factors in the success of their season thus far. 
Women's Varsity Volleyball now has a 25-6 record after winning their first seven games. But these immediate successes were challenging as older, more experienced players graduated, and younger players learned the ropes. With their pedigree of success and coming off a championship winning season, it is understandably hard for new players–most who have never played on a team as competitive as this one–to assimilate to the intensity and high expectations.
In mid-September, the varsity team traveled to Las Vegas to participate in the Durango Fall Classic tournament–one of the most prestigious and competitive high school volleyball events in the country. After waking up for an early flight and going straight from the plane to their first game, the team ended up going 3-0 that day–starting the tournament off with encouraging success. Looking back on the tournament, senior Sandrea Thomas commented that, "This was very memorable for the team because it was a test, especially for the younger ones who have never done it before, to see how well they can focus on the game and win even with all of these contributing factors."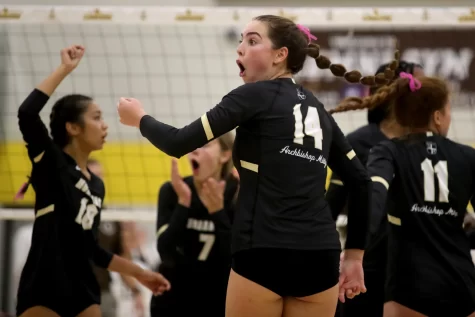 Their success, however, is not by accident. There is an immense amount of mental and physical work that goes into their wins. The team spends hours in the gym and the weight room, working on their speed and strength. But arguably more important is the effort and attitude with which they approach their game. They tackle every practice and game the same, always bringing their full energy and focusing on how they can improve, work better as a team, and be aggressive on the court. 
The coaches are a big factor in cultivating this environment. Senior Demi Harris noted, "[Head Coach Jon Wallace] puts a new perspective on life: to have you not care [about] what other things are telling you but to focus on yourself, to play your game, and to better yourself as a person without all of the outside noise." Additionally, with the push and support from the assistant coaches, Coach Casey and Coach Lacey, the team is able to balance being a competitive program with high expectations while still fostering a positive and uplifting atmosphere. 
Overall, the team's performance this season has been exceptional, with some exciting games and a few blowouts. However, the team has experienced some tough losses: most notably to Saint Francis. The Mitty team has played and lost to them three times over the course of the season. This has been especially difficult for the returning players, knowing that they have beaten them in past years and still have the ability to do so. Rather than being discouraged, the team seems to view these losses in a more positive light. Thomas mentioned that, "The losses to Saint Francis don't really bring us down, but make us more determined next time we play them." This perfectly embodies the attitude that is taught within the program: not to see losses as setbacks but as motivators, catalysts, and reminders that there is always room for improvement. 
The team plays Saint Francis once again on October 25. With a chip on their shoulder and having improved since their last face off, the team is ready to go head to head. They hope to use the momentum that they have gained and the team dynamic they have built to take them all the way to State, and this time, return with a state championship!