And The Walls Fall Down
Pull back the curtain of Mitty's uniquely-crafted fall musical, "The Play That Goes Wrong"
Boom! Clang! Crash! The walls fall down! The Play That Goes Wrong starts with a seemingly stereotypical murder drama until nuts and bolts slip off door hinges, shelves and furniture shatter, and the walls collapse. The actual premise of the show is hidden within layers of sub-plotted drama. This production was unlike anything seen before, and its behind-the-scenes bustle with preparation months before release.
As the comedy's name suggests, a lot of things don't work quite right. The live-action part of the play included farces—a masquerade in which the entire set falls apart or breaks down. The production is predicated off these farces; the murder mystery is simply their framework. Director of Performing Arts Mr. Santana summarizes, "The unique premise is that the audience is watching a show within a show."
Further distinguishing the play were its dual stage managers. Senior Nicholas Corral elaborates, "There's a stage manager who runs the technical elements and there's a stage manager who is an actor acting as the stage manager, because it is a play within a play."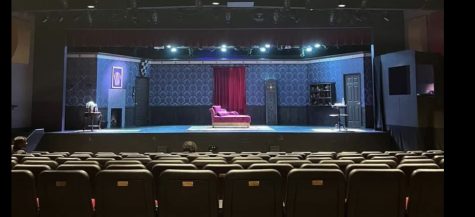 Technical Director Mr. Karr took on the task of the complex set work. The build was a demanding assignment, placing an emphasis on safety for the actors and backstage crew members. Mr. Karr considers this the most demanding set he has ever worked on. Nicholas corroborates, "the challenge is that the sets themselves have to fall apart, and that has to be repeatable."
How did the build crew see this through? They assigned each element of the set to a team of five students, seven in total. Each team measured, drew, designed, and constructed their parts, before transporting them onto the stage as a whole. Communication and collaboration within and across teams was vital to everything operating as expected. During a final inspection, Mr. Karr rooted out errors in manufacturing and usability.
Within the challenge of these designs, appropriately, lay another challenge—the looming deadline. "'How long do we have?'" Mr. Karr would inevitably asks himself. The director would make the call to adjust each project depending on its due date. Part of the time crunch was the safety requirements that each set item needed to meet. Designs were as simple as possible to ensure their aforementioned repeatability, especially with the show's six runs. Among testing, rehearsals, and an imminent deadline, the crew had no time for countermeasures in case of disaster; they placed their trust in a solid build. When the sets were complete and the actors took center stage, the build crew could step back and take pride in their successful months-long project.
Mr. Karr enthusiastically states, "When the entire set falls apart–that is the greatest testament to what build crew has done."