Java and Jazz: Where Music and Coffee Go Together
A look into the planning and preparation of the annual Java And Jazz event
Aromas of freshly brewed coffee drift through the air as people wander around the courtyard pausing to grab a homemade dessert, then move to a table to join a group of friends. From there, students and teachers can watch the Jazz Band and Jazz Choir perform—and maybe even meet someone new. This is the scene of Java and Jazz, an annual event where people come together, enjoy coffee and desserts, and listen to Mitty's Jazz Band and Jazz Choir perform a variety of pieces.
Java and Jazz is a concert hosted by the AMHS Jazz music program every fall. It takes place in the Power Courtyard which for the night, is transformed into a coffee bistro setting with baristas serving coffee and faculty members serving confectionaries while the Jazz Band and Jazz Choir perform.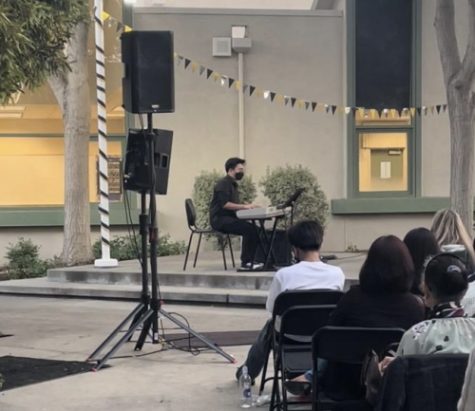 It's an important night for the Jazz department, which begins practicing right from the first week of school; in fact, some members of the Jazz Choir even  begin learning a piece over the summer. Senior Paige Pataky, a member of Jazz Choir, explains, "It's a pretty fast process to get ready for this program because it's so early in the year, but it's always very gratifying."
Jazz Choir and Jazz Band each perform a few distinct pieces, chosen by their respective music teachers. For the 2022 Java and Jazz, the songs included "There Are Many Ways to Say I Love You," "Hymn of Axiom," and "Java Jive" for Jazz Choir, and "Take the A Train" and "Caravan" for Jazz Band. In addition, a few selected soloists from each group earn the opportunity to perform a song of their choice. The soloists' pieces are dispersed throughout the night first, followed by Jazz Band, and closing off with Jazz Choir.
Besides the Jazz Choir and Band, many mitty faculty members have helped plan the event since the start of school. Ms. Gillian Ortega, one of the faculty members in charge of set up, recounts how they began planning in August. They have to ensure the little things like booking the coffee guy and having a videographer. Later on, they send a request for setting up the tables and chairs and enlist the help of parent volunteers for bringing desserts and helping out with the event in general.
Java and Jazz builds community within the different cliques of the school and encourages the students, faculty, and families of AMHS to feel more connected to each other through a shared love for both coffee and everything jazz. Not only is it a fun night after school, but it's also a place to socialize with new people. Ms. Ortega states, "I just think it's important to go and support departments and groups that maybe you're not a part of…You get to know what's happening within all the departments instead of just being sectioned off into one." 
Java and Jazz is one of the enduring events at AMHS. Mr. Mason Kimont, the head of the Jazz Band comments, "It's a fun event. I can't believe it, now that I'm thinking about it, this is the 20th one. It is clearly a thing that people enjoy—a long standing tradition."