Football: How the Monarchs Are Bouncing Back
The Mitty football has turned around their 2021 season, dominating opponents and stacking wins
It's difficult to pull off a strong season after a rough year, especially in football. But that's why this year's Mitty football team is one of a kind. After having a rough 1-9 performance last season, they kicked this season off with a perfect 4-0 start—each game, a blowout. And with a dramatic comeback win over Bellarmine on Oct. 14—keyed by senior Danny Scudero's fourth-quarter kick return for a touchdown which was followed six seconds later by senior Steven Anaya's pick-six—the Monarchs improved their record to 6-1. During the off-season, nobody expected the Monarchs to be this dominant, so how did they do it?
"Last year we went through the blender," senior Ben Kim commented about the team's 2021 season. There was suddenly a lot of stuff the team had to learn to keep success consistent. To keep focusing on winning, they needed to keep the mood up. Kim said that a crucial part of this was, "to play with our heart and souls on the field and keep each other accountable, and the rest will take care of itself." This has proven true thus far as the Monarchs have absolutely dominated their opponents—in their first 3 games, outscoring their opponents 108-14. Kim credited much of the team's defensive success to the team's new defensive coordinator, Coach Dakari Monroe (class of '15). Success on the defensive side of the ball has given their offense an opportunity to succeed, setting them up with prime field position to score.
This mentality helped them win the first game of the season and keep the momentum going. However, winning those games was not solely based on mentality. When asked about changes to the game plan, Head Coach Danny Sullivan remarked that, "Any time a team struggles to win games, it becomes easy to question the process and if things should change. We spent a ton of time this off season changing the team's culture to be more inclusive and find ways for our kids to spend time together, which was clearly missed due to the pandemic." Team bonding is definitely one important piece to the game plan, this has been seen so far in the season. This helps the team both on and off the field, bringing morale up in the practices and even the locker room.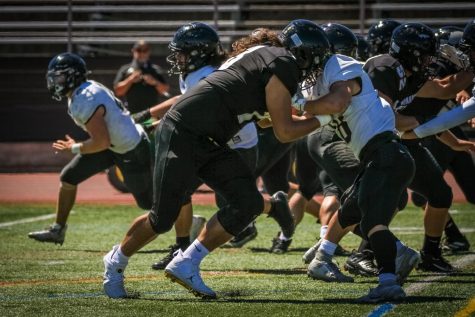 However it is not just the coaches who lead the team, but also the players who learn to lead by example. Kim explains that "being a senior means you get to step into some of the leadership roles of the team." Last year, the team had few seniors. Although those seniors tried their best to guide the team, it was evident that the team had a shortage of leaders. This year, the team boasts nearly 40 seniors which has helped to full this leadership void. The coaches have worked with the seniors in regular leadership council meetings, which has helped the current seniors embrace and understand the responsibility of being the team's role models.
Coach Sullivan added that the team bonding has also helped the underclassmen elevate their game, explaining that "the bond with this junior class has been great, while still supporting our sophomores and freshmen at the same time. It's the program sustainability we hope for, not just one team doing great things here and there." The culture and mentality that Coach Sullivan is building this year at Mitty aims to be successful every year, not just this one.
Although the team experienced their first loss of the season against Serra, this result only shows that, despite the team's hot start, there is always room for improvement. Kim acknowledged that the team knows "there's going to be some ups and there's going to be some downs." Coach Sullivan also added that what he considers a success isn't necessarily how much they win or lose, but rather "how hard you work, how you treat people, and how much fun you can have doing what you do." He's worked towards building a culture that works hard week in and week out. They have a 0-0 mentality, where they work hard and grind for that win every single game, regardless of the results of previous weeks.