Warriors: Financial Questions Confront Reigning Champions
The NBA champions have some difficult financial decisions to face in the coming two years
The Golden State Warriors had a fantastic 2021-2022 NBA season. Stephen Curry won his first NBA Finals MVP, and he also–alongside Klay Thompson and Draymond Green–won his fourth NBA Championship with the team.
Despite all this, the success and praise that came with this historic championship run just a few months ago raised questions about the financial issues surrounding the team. Just a week ago, key Warriors players such as Jordan Poole, Andrew Wiggins, and Draymond Green were all in need of contract extensions over the next two years. However, on October 15 it was announced that Wiggins and Poole had both signed four-year extensions with the team. Even with this news, there's one player that still  hasn't signed an extension: Draymond Green.
Up until recently, it seemed as though Curry, Thompson, and Green were a package deal. According to The Athletic's Anthony Slater and Marcus Thompson, the star of the team Stephen Curry had made this clear, publicly announcing that they "want to keep it together as long as [they] can." However, after a video of Draymond Green sucker punching Jordan Poole took the NBA world by storm, Green's status on the team has changed significantly. As it stands today, it is looking like this might be Green's last year on the team. This begs the question: Will the Warriors be able to replicate their success without Draymond Green?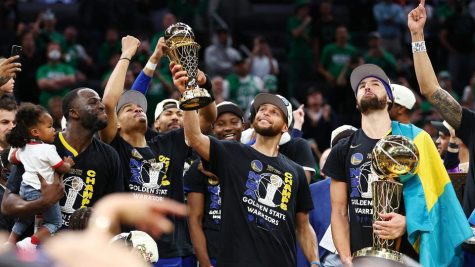 The end of this Warriors' trio that set the foundation for the franchise was inevitable, but it wasn't until recently that it became a serious talking point amongst the organization. The main argument for keeping this trio has always been their chemistry and their ability to win championships. However, this trio has been an aging one and, besides Curry, has not been nearly as good as they once were. With the recent extensions for Wiggins and Poole, it is clear what the Warriors are prioritizing: their future.
Not only is Jordan Poole only 23 years old, but he is also one of the most improved players in the league with tremendous potential. In the 2021-2022 NBA Season, Poole averaged 18.5 points, 3.4 rebounds, and 4 assists on 44.8% shooting compared to the year prior, where he averaged just 12 points, 1.8 rebounds, and 1.9 assists on 43.2% shooting. On the other hand, Wiggins is 27 years old and averaged 17.2 points, 4.5 rebounds, and 2.2 assists on 46.6% shooting. His lockdown defense on Jayson Tatum in the finals paired with his elite athleticism and 7 foot wingspan means that he has also made the case for being one of the best two-way wings in the NBA.
In contrast, the 4x All-Star and former DPOY Draymond Green has clearly not been the same player as he once was. He is 31 years old at this point in his career, and offensively has become a major liability, at times even being benched for players such as Jordan Poole and Kevon Looney. Even on the other end of the floor, he has too often been nowhere near the DPOY caliber-player he was in his prime.
Because of this, the Warriors have an important decision to make. And after Saturday's signings, the end of this trio seems near. The clock is ticking, and it's not ticking any slower.