From Supply and Demand To a Demand For Change
As the supply chain is disrupted and relief efforts fail, national prices are rapidly increasing—specifically affecting low-income consumers and small businesses.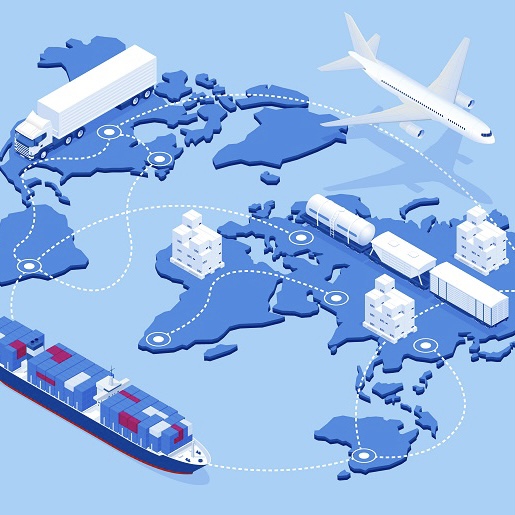 If you felt last year's pressure of retailers pushing holiday shopping on you (before you even considered a Halloween costume) you can blame growing backlogs in the global supply chains which deliver critical goods to the United States.
The pandemic-fueled growth in online shopping, in addition to the shortage of commercial warehouse space and deficit of truck drivers, has dramatically increased distribution times for products. According to Washington, D.C., real estate consultant Robert Thornburgh, COVID-19 has led to a global dependency on shipping and delivery, thus making "the supply-and-demand imbalance…more significant than ever seen [before]."
Not only did the search for storage lead to significant delays in estimated arrival dates, but the pandemic's impact on the American economy also further exacerbated the supply chain crisis. Transportation companies had already been understaffed for years prior, but the wave of retirements and resignations—known as the "Great Resignation"—compounded shipping delays further, leading to today's issue of empty store shelves and panicked holiday shoppers.
The shortage of truck drivers remains a national crisis, with delivery times being delayed—from what used to be a couple days, to a couple months. The trucking industry is short 80,000 drivers, and deteriorating conditions across the transportation sector have only furthered delays.
The supply chain phenomenon is rippling across the United States's economy, stoking federal inflation and shutting down businesses. Small businesses are hit the hardest, "pushed off to the sidelines and marginalized, as larger companies scoop up available warehouse space," says Stacy Mitchell, co-director of the Institute for Local Self-Reliance. Certain markets are especially impacted, such as the Black hair care and cosmetic businesses, which is estimated to be a $9 billion dollar industry.
"Supply-chain problems are pushing up costs for skincare and other beauty products that U.S. consumers pay for at Black-owned stores and those owned by other ethnic groups," says Sam Ennon, founder of the Black-Owned Beauty Supply Association (BOBSA). As companies are forced to drive up prices to compensate for supply chain disruptions, low-income consumers who depend on smaller businesses for affordable products are deeply affected.
The Biden administration is struggling to relieve supply shortages, causing consumer prices to climb and consumer confidence to fall. In an effort to mitigate the blockages, the House passed a $1 trillion infrastructure bill, which intends to increase spending on roads, bridges, power systems, public transit, and more over the next five years. With this bill, federal infrastructure spending will increase to its highest share of the GDP since the early 1980s—approximately 1% of the GDP each year.
Essentially, infrastructure is being made a high priority for the first time in decades—a decision that has been long overdue. Adie Tomer of the Brookings Institute writes that if you step back and look at the bill, it can make the country seem "more inclusive, environmentally resilient and industrially competitive". But for this bill to work ideally, there will have to be more money included in it, and it is yet to be seen how well it will actually be implemented. On a whole, the infrastructure relief relies almost entirely on the implementation of this bill and whether or not it will truly impact people's lives. 
Supply chain bottlenecks are being described as "the perfect storm": Covid shutdowns, high demand, and trade issues all coming together to drive up inflation. Businesses are shutting down and low-income consumers are suffering massive ramifications. In response to this crisis, the White House has passed a bill attempting to help the US compete with other countries' economies as well as fix the domestic problems that supply chain backlogs have caused.
In the end, this bill has the potential to be the American economy's saving grace, but it all depends on how it is implemented. In the meantime, however, the aid the White House is providing will be a solid first step to ending supply chain bottlenecks and helping the average constituent.