Working for the Knife: Mitski's Laurel Hell and the Exploitation of an Artist
A review and analysis of Mitski's album Laurel Hell
April 14, 2022
A "laurel hell" is a term from the South Appalachians; it's the phenomenon of laurel bushes growing in dense, wide thickets and sometimes killing the people who got stuck in them. Singer-songwriter Mitski, who named her most recent album after this term, explained in an interview, "Laurel flowers are so pretty. They just burst into these explosions of just beauty. And, I just, I liked the notion of being stuck inside this explosion of flowers and perhaps even dying within one of them."
This beautiful yet morbid image of laurel bushes is the perfect description to use for Mitski's sixth studio album, Laurel Hell. A major recurring theme of this album is feeling stuck—feeling like there's nothing left to give to something that's supposed to be beautiful, whether it be music or a relationship. In fact, Laurel Hell almost didn't even exist; Mitski announced in 2019 that she would quit music completely to "find another life." After the success of her 2018 album Be the Cowboy, Mitski struggled with her new fame and the demands of the music industry, which she described as a "super-saturated version of consumerism." Feeling like a "product that's being bought and sold and consumed," Mitski feared her potential fate: making music she didn't care about. But, for her label and for herself, she decided to return to music (and thank God that she did).
"
As a musician, the lines are blurred between using art as an emotional outlet and exploiting pain to survive in a hyper-consumerist industry.
Though many of the lyrics can be interpreted as reminiscent of a past lover, Mitski's struggle with her commodification as an artist and public figure is apparent throughout Laurel Hell. The opening song, "Valentine, Texas," is solemn as she quietly croons, "Who will I be tonight? / Who will I become tonight?" Though the public knows her as indie rock musician Mitski, she has grappled with being both an artist and simply Mitski Miyawaki. The two identities are separate; Mitski expressed regret about using her real name as her stage name, saying in an interview with Vulture, "Seeing my name just reminds me of the world. It's just not mine anymore…I am a foreigner to myself now." Subtle, yet intense and soul-crushing, the production itself of "Valentine, Texas" also adds to the image of a laurel hell. The minimal combination of just her vocals and a couple chords leads to the sudden addition of ethereal instrumentation, creating that overwhelming dreaminess that feels like it's splitting your soul in half—a staple characteristic of Mitski's discography.
The gem of Laurel Hell, however, is "Working for the Knife," the synth-heavy lead single of the album. "Working for the Knife" almost acts as the thesis of the album; it laments a life of having to work and live under a "knife," also known as an oppressive force such as capitalism or societal expectations. In Mitski's case, working for the knife entails taking advantage of her own pain for her music. In a Genius lyric explanation video for "Nobody" in 2018, Mitski recalled being in a depressed state and thinking to herself, "Let me use this pain and exploit it for my money." She says it with a smile on her face—half as a joke—but there's truth to her statement. As a musician, the lines are blurred between using art as an emotional outlet and exploiting pain to survive in a hyper-consumerist industry. Thinking about Mitski's reasons for almost quitting music, "Working for the Knife" simply makes sense. She's been active in music for a decade now; it's understandable (and relatable) to slowly lose motivation for a career after losing yourself in it. This reluctance shines through in the visuals of its music video, where Mitski literally crawls and thrashes on a stage.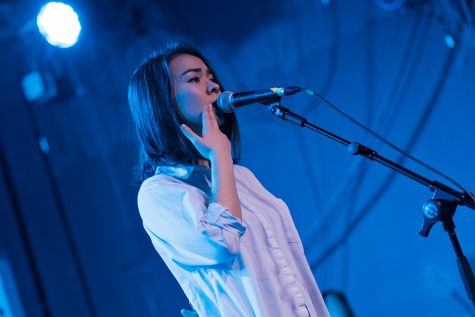 But by no means does Laurel Hell show a hatred or lack of care towards music; it does the opposite. Mitski doesn't have all the answers, but we as her audience are lucky enough to be able to listen to her grapple with the questions. Her love for music (and borderline reliance on it) is strikingly apparent, not only in the emotional melody lines and flawless instrumentals, but in her carefully written lyrics as well. In "Love Me More," which explores feelings of isolation, Mitski sings, "But when I'm done singing this song / I will have to find something else / To do to keep me here / Something else to keep me." For Mitski, music helps fill the void and give her life meaning. In spite of the difficulties of fame and artistry, it's undeniable that Mitski loves music, even if it isn't some perfect cure to loneliness or emptiness. After all, Mitski did decide to return to music, which she explained to Rolling Stone: "What it came down to was, 'I have to do this even though it hurts me, because I love it. This is who I am…I'm going to keep getting hurt, and I'm still going to do it, because this is the only thing I can do.'"
What's timely (and ironic) is that, at the start of her Laurel Hell tour, Mitski politely asked her fans through Twitter to refrain from being glued to their phones for the entirety of the concert, explaining that she felt "as though those of us on stage are being taken from and consumed as content." While most fans were supportive, others weren't as understanding of why Mitski wouldn't want to perform in front of a sea of cameras glaring up at her. Perhaps this is the best representation of a laurel hell: feeling stuck in a beautiful yet suffocating crowd.