DEI: Inclusivity Campaign
An overview of the DEI Inclusivity Campaign and the circumstances that brought it to light.
"All I did was say, 'Made in the image and likeness of God, what does it mean to you?'" Diversity, Equity, and Inclusion (DEI) Director Mrs. Patsy Vargas explains. The Inclusivity Campaign, organized by the DEI Initiative, was an opportunity for students and faculty alike to consider the phrase which embodies Mitty's Catholic identity. Among other aspects of the campaign, members of the Mitty community created postcards to represent what the phrase meant to them. 
Coinciding with the protests for racial justice in the Summer of 2020, inclusivity at Mitty came to the forefront when students and alumni shared their experiences with racism on campus using the hashtag "Expose Mitty" on Twitter, which began trending. Furthering the conversation surrounding inclusivity at Mitty in November 2020 was the replacement of the winter musical, Head Over Heels, with the more traditional Songs for a New World.
"Honestly, it's not this one area, and it's hard to explain." Mrs. Vargas clarifies about the impetus for the Inclusivity Campaign. "Two years ago, we had #Expose Mitty, and it was this 'Come to Jesus' moment where we needed to check ourselves . . . We now have our first female president, that has never happened at our school. We now have our first Black president . . . The impact of Head Over Heels, right? There have been several things that have happened at our school that were like, 'What is it that we can continue to do so that we can continue to be an all-inclusive school for everyone?'"
"
By looking at all of the postcards together, it's beautiful to understand that we are all different, yet in many ways similar because God loves all of us."
— Mrs. Patsy Vargas
Following the cancellation of Head Over Heels, Mrs. Vargas and a few other teachers were engaging in casual conversation. The topic eventually arose of how the DEI Initiative and Mitty as a whole could better support students and reaffirm its Catholic identity. At first, suggestions were pitched in a "popcorn" style manner—it was "layer after layer," as Mrs. Vargas explains—until the Inclusivity Campaign idea was formulated. 
To set the campaign in motion, Mrs. Vargas began reaching out to various departments on campus, such as Campus Ministry, Performing Arts, and Student Government. "It depended on who had off periods and who was available at the time," Mrs. Vargas comments. While she and other teachers oversaw the postcard campaign, most of it was student-centered. Senior Alexa Mayorga, a member of the LatinX Student Union, recounts, "I basically helped set the tables up [for the postcard writing sessions], and we put up examples of students that had already done a postcard."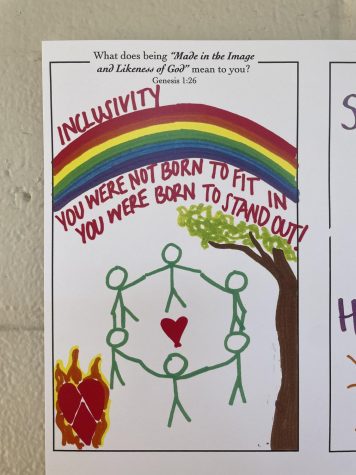 Students and staff alike participated in the campaign, but each individual postcard reflected on the question through different representations. As Mrs. Vargas describes, "Some of them focus on it through a faith-based lens. Some of them focus on it through an ethnic lens—'various shades of brown is beautiful.' Some of them focus on a lens of 'love is love.'" Subsequently, Mrs. Vargas recruited students to arrange the postcards in a way they thought most appropriate. Groupings of four postcards were printed and posted around campus, displayed on TVs, and featured in the AMHS Weekly Newsletter.
As the campaign presses onward, Mrs. Vargas emphasizes there is always an accepted space for improvement and suggestions: "I welcome any feedback. I take the ideas that students give me and I will run with them, and I will affirm and celebrate whatever it is that students bring to me."
For Mayorga, this means the creation of a safe campus for students of color to receive unconditional support from both their peers and mentors. She remarks, "I just hope students in the DEI program feel more included, and that they know there's communities and people there for them."
Mitty's mission statement is a message that Mayorga reiterates is instrumental to the campaign's impact. She notes, "In order to build this sense of community, we need to build a sense of empathy. I feel like that is tied into being made in the image of God and how our differences sometimes separate us—but that shouldn't separate us, it should unite." 
A similar sentiment was echoed by senior Will Yeaman: "I think a more realistic impact of this campaign is that the people immediately on this campus will start being more inclusive or paying more attention to that… All people share a common humanity… We all should be valued, in our words. And not just tolerated, but accepted. Because we're all human."
Thus, as the intersection between faith and identity, the DEI Inclusivity Campaign presents an outstretched hand to all students and faculty as an affirmation of their own being. To this, Mrs. Vargas reflects, "By looking at all of the postcards together, it's beautiful to understand that we are all different, yet in many ways similar because God loves all of us. It reaffirms that we're not all the same, but under God's eyes, we're perfect just the way we are."