Menstrual Hygiene is a Human Right. Period.
An overview of the Period Poverty Drive and the societal issues which it seeks to support.
Five hundred million people worldwide, nearly 25% of all menstruators, experience period poverty; they do not have access to the menstrual hygiene products that many of us take for granted. Yet, this issue seems to go unnoticed. The stigma surrounding periods often leaves it ignored, or worse—mocked. In order to improve the lives of those suffering from period poverty and destigmatize this important issue, Mitty hosted a drive from February 1-11 to collect menstrual hygiene products and spread awareness.
The Period Poverty Campaign at Mitty began with junior Chidubem Nwosu. Each year, the Campus Ministry Department accepts student proposals for a donation drive to bring awareness to issues that students are passionate about. Nwosu was made aware of period poverty by a friend, with whom she had co-founded a campaign outside of school to combat the issue. This led her to research the topic on a deeper level, and she realized it was something she wanted to commit to. Last November, she approached Campus Ministry to expand the operation to Mitty; her proposal was approved the following month.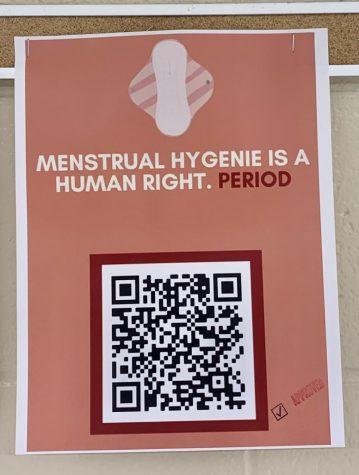 While Nwosu spent the year prior to the proposal immersed in research regarding period poverty, she has had a lifelong experience with period stigma, a broader term that encapsulates the discrimination faced by all who menstruate.
 Nwosu recalls classmates' open disgust and cruel jokes directed toward the subject. Students often shy away from discussing periods at all, silenced by both individual and cultural stigma. In some religious or traditional environments, discussing menstruation may be seen as shameful and inappropriate. Nwosu points out that "Period stigma is why if you're a person who has periods, you're not going to talk about it. It's literally taboo … especially if you're a woman of color."
Yet, Nwosu's experience, while common to everybody who menstruates, is only one component of the larger issue. Period poverty, defined as a lack of access to proper period products, primarily pads and tampons, is a significant challenge for people around the world.
Campus Ministry approved Nwosu's proposal. Not only would the donation drive deliver these products to people off campus, but the campaign as a whole would aim to destigmatize the issue throughout campus.
"
I was nervous having that Mitty Minute out there, but it was for a good cause. I did things I wasn't comfortable with doing. It had to be done."
— Junior Chidubem Nwosu, student organizer
The next step was to spread the word of this initiative. With the help of senior Rohan Tawade and his team at the Mitty Advocacy Project (MAP), a group dedicated to improving the lives of those suffering from social inequity and inspiring youth to take action, Nwosu advertised the drive by creating posters and Mitty Minutes to air on the morning announcements. For her, promoting the campaign under such a direct spotlight was no easy feat: "I was nervous having that Mitty Minute out there, but it was for a good cause. I did things I wasn't comfortable with doing. It had to be done." Nwosu also connected with other groups on campus such as the Female Empowerment Movement (FEM), which hosted a speaker series concerning this issue, as well as the Black Student Union (BSU) and LatinX Student Union (LSU), which held an event in the Diversity, Equity, and Inclusion (DEI) office to decorate boxes for collecting donations.
Donations began flowing in, collected at the DEI office, foyer, and Campus Ministry office. Mr. John Marheineke, the staff supervisor for this drive, notes, "I've seen a variety of students and faculty and staff members come in through the doors to donate, which is great. What I love is that the pile is starting to be an inconvenient size for us in campus ministry … People have been so generous, we've got to figure out where we're going to put all this stuff." Campus Ministry later worked with students to deliver the donations to organizations that can distribute the products to those in need.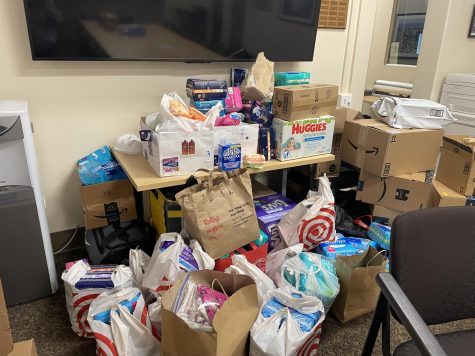 Nows, Tawade, and Mr. Marheineke all agree that it can be difficult for people who do not experience periods to understand how important it is to address this injustice. It can be uncomfortable for them to buy these products, but that makes it all the more important that they do so and destigmatize periods.
According to Mr. Marheineke, "This issue—as with I think many poverty-related issues—is a little bit uncomfortable for us to think about and talk about. I think that stretches us as a community, and I think it's important for us to acknowledge that and be aware of that."
Lily Hyun, a donor to the drive and an associate from FEM club, adds, "Each and every person's words and actions contribute to this societal opinion. So if you think that you are not contributing to this problem, ask yourself if you have ever talked to a single person in your family about periods." 
Through this project, Nwosu and her partners hope to erase the stigma surrounding periods, allowing people to be comfortable discussing the topic of menstruation. So far, the campaign has been a success according to Nwosu: "People have been forced to talk about these issues. They have already started normalizing it, coming up to me and saying they understand, and they stand with the cause."