AMHS Live's New Video Magazine
A feature on the developing AMHS Live video magazine and the new direction of the club.
The creative minds at AMHS Live are hard at work looking to create the organization's first news variety show, which is currently under production and will be released in mid-March. This student-driven project looks to move away from the program's exclusive focus on live broadcasting, widening students' horizons to all genres of video production–fictional filmmaking, vlogging, social media to YouTube, gaming content, and live streaming. These forms of content give students more liberty to exercise their creative talents.
In regards to the transition, AMHS Live Moderator and Visual Arts teacher Mr. Ryan Olein explains, "Our balance was kind of tilted to live broadcast and it was not necessarily hitting all the areas that the students really wanted to focus their efforts on." The organization's lively pitch meetings are the nexus of this creative spirit as students are put in the driver's seat to collaborate and share ideas together. AMHS Live Moderator and Visual Arts Teacher Mr. Jeff Petersen explains that the open-ended, innovative, and collaborative nature of the pitch meetings is what truly makes them special.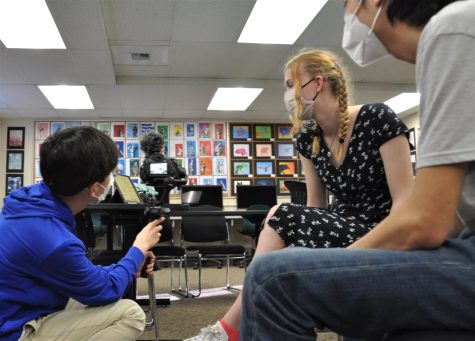 Resembling the structure of popular series such as Entertainment Tonight and 60 Minutes, each episode of the AMHS Live news variety show will be divided into various segments. Episodes are anchored by two hosts who introduce a program of three to five segments that have been produced by the students. Once each segment is finished, the show will cut back to the hosts who interject commentary on the previous segment before introducing the next.
Altogether, the news variety show aims to be both entertaining and informative with a mixture of comedic and documentary-style scenes. One segment is a "Carpool Karaoke"-inspired interview with Mitty's President Mrs. Latanya Hilton, adding a dose of comedy while also allowing students to engage more with Mrs. Hilton. As Mitty athletes already receive their much-deserved attention within the school community, the show also looks to jump into the larger community by highlighting the talented members on Mitty's campus outside the realm of traditional sports. Some of these talents include a high rate fencer, inventors, and a nationally ranked rider in Dressage–a form of horse riding.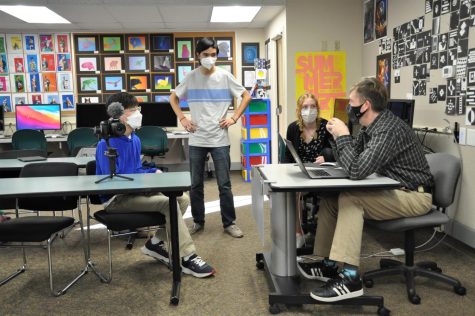 While producing the show, the students and moderators soon realized that it was going to be much more time-consuming than they originally anticipated. The overall process of planning the show–from the technical aspects of creating transitions and animations to finding actors to be the face of the show–has turned out to be time intensive. Mr. Olein explains that the entire process has not been easy, especially because of the COVID-19 pandemic. Nevertheless, the project has continued to move forward.
Despite the numerous setbacks, the AMHS Live show is moving forward and the students are excited to unveil their creativity to the Mitty community. Mr. Olein has been most inspired by the students' creativity, explaining that he enjoys "being able to introduce students to tools and techniques and equipment and then watch what they do with it."