Harry Styles: The Love on Tour Experience
An up-close and personal recap of the Love on Tour San Jose show
I got tickets to see Harry Styles on tour for his second album, titled Fine Line, for Christmas in 2019. Due to Covid-19, the shows were pushed and pushed again, until finally the San Jose show was set for November 11th, 2021. Arriving at the SAP center, where the concert was held, everyone was in their Harry Styles best: boas and colorful sunglasses were everywhere.
The stage was in the middle of the floor, with the instruments bunched together with vines of sunflowers, a tribute to song "Sunflower, Vol. 6," wrapped around microphone stands. The pit, or the area around the stage, was full of teenage girls —around 80% of the crowd were girls under the age of 25, which as a teenage girl myself, allowed for a rather comfortable, familiar, light-hearted atmosphere.
"
From all around me, I kept hearing, 'Oh my God. He's real.'"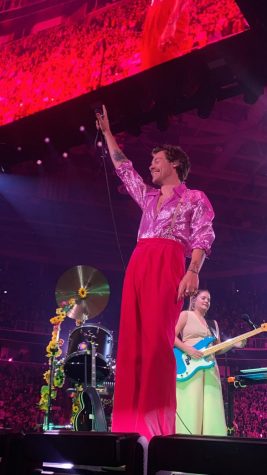 First his band, all dressed in the same cream color, ran onto stage. Then Harry popped up from the middle of the stage, wearing hot pink, high waisted pants with matching suspenders, and a shimmery light pink shirt. Everyone was screaming, including myself. A girl behind us shouted, "I MANIFESTED THIS COLOR!"
The opening song was "Golden," my personal favorite from the album. From all around me, I kept hearing, "Oh my God. He's real." With the next song, "Adore You," Harry really came alive. He ran around the stage, doing his signature dance, which I can't even describe with words.
After the song, Harry gave what I like to call the "service announcement," thanking the crowd for being there and welcoming them to the show. Harry almost made a point of explaining his thought process behind the circular stage, which was so he could see and interact with the whole audience.
Fans adore his band members, so when guitarist Mitch Rowland took his solo for the song "She," the crowd went absolutely insane. For the songs "Cherry" and "Falling," the more emotional songs from the set list, Harry brought his band to the ends of the catwalks on both sides of the stage, creating an intimate atmosphere.
Everyone turned the flashlights on their phones on and just basked in the sadness. A disco ball came down during "Sign of the Times," and the vibe was absolutely perfect. During a slight intermission, Harry did what he does best: interact with the fans. It's a tradition on Love on Tour for fans to bring posters with comments or questions for Harry to respond to.
At our show, Harry convinced a girl to move to NYC and helped another girl come out to her mom. It's with moments like these where you realize why Harry Styles is so special—he truly sees and appreciates his fans, and reaches out to them whenever possible. The show closed with "Kiwi," a crowd favorite. There was honestly no better way to end it.
After I see artists in concert, I always question whether I like them more or less after seeing them live. With Harry, it is undoubtedly obvious to anyone who was there; that it is basically impossible to like Harry any less, and only possible to like him more. He interacted with fans, danced like no one was watching, and looked like he was genuinely having fun on stage. There was no better way to spend my night, and I would do it again in a heartbeat.