"All Too Well" (Ten Minute Version)(Taylor's Version)(From the Vault): Long Song, Short Film
Exploring the short film based on the original version of one of Taylor Swift's most beloved songs
Surprises are nothing new with Taylor Swift, but after these past few months it's safe to say that she is definitely not your typical singer-songwriter. With the release of her second re-recorded album, Red (Taylor's Version), on November 12, Swift chose to take a fan favorite from the album: "All Too Well," a step further, releasing the original, 10-minute version. The song from Red in 2012 was a shortened version of what was recently released this month. Much to the delight of Swift's fans, "All Too Well" was finally heard in its entirety. As if watching the Red era begin again was not already enough, a week before the re-recording was released, the release of her very first short film, with the same name as the beloved song, was announced. Saying fans went crazy is an understatement.
"
"And did the twin flame bruise paint you blue? Just between us, did the love affair maim you too?"
— Taylor Swift, All Too Well (10 Minute Version)
All Too Well: The Short Film and the ten minute version of the song managed to convey the entire story of a manipulative and treacherous three-month relationship between two lovers, played by Sadie Sink and Dylan O-Brien, who are "rumored" (although let's face it we know) to mirror Taylor Swift and her ex-boyfriend Jake Gyllenhaal. The film is based on the same fall romance story line of the ten-minute version, and the song is heard playing through most of the film. The story begins with the lovers in a seemingly happy relationship, but soon after comes a scene in which Taylor describes as "the first crack in the glass." This is the only part of the film in which the song is not in the background, therefore putting emphasis on the fight in which Sadie Sink's character noticed the first (of many) red flags in her significant other. From there on out, their relationship begins to escalate and eventually ends.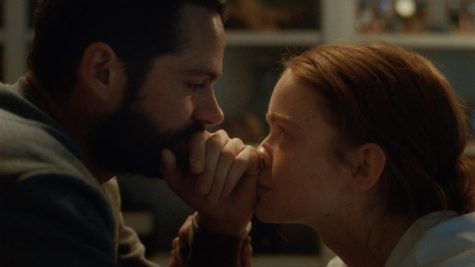 The way she portrays the story is a wonderful reflection of how her talents of storytelling go beyond just songwriting. Because this is not your typical girl meets boy story line, the two characters are never getting back together, like ever, at the end of the film. In the end, Sadie Sink's character, now played by Taylor Swift herself, is able to tell the story of her past relationship in a peaceful way, symbolizing that Taylor herself can share the emotional moments of her life in the public eye without fear. After ten years of the original "All Too Well," we receive the closure and satisfaction that Taylor Swift can finally own her music and reconcile with previously heartbreaking experiences.