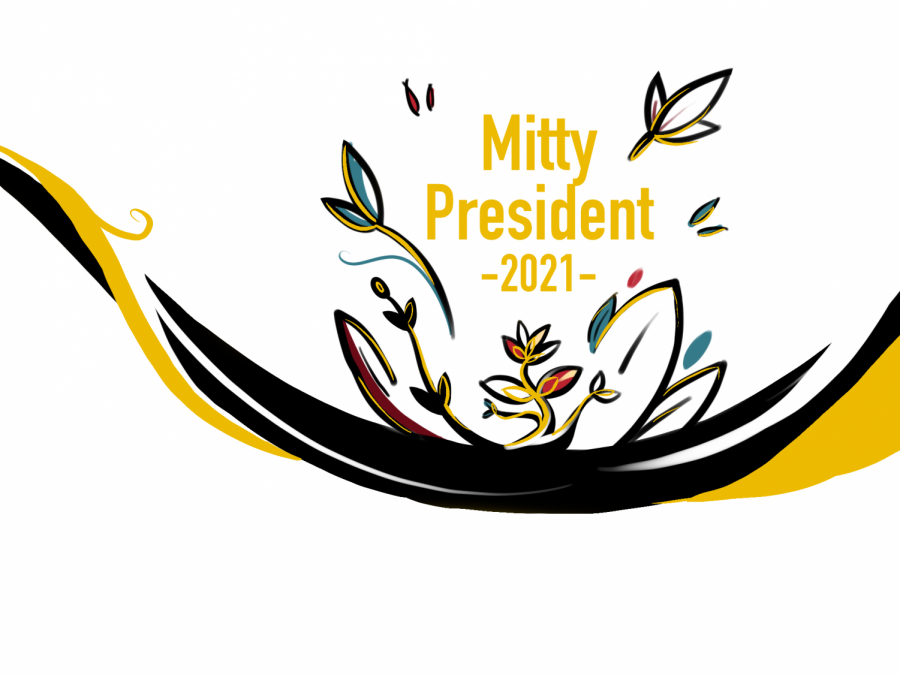 President Hilton: The Culmination
Mrs. Hilton's appointment to president was the culmination of a lifetime of experiences.
"Oh, I was totally nervous," Mrs. Latanya Hilton candidly responds a month after her inaugural address to the newly returned Mitty students and staff at the beginning of the 2021-2022 school year. "I didn't sleep at all the night before. I got here at seven and I started to see people getting dropped off. Everyone was in the quad and I did have that feeling of, 'Okay, there's a lot of bodies here, and I'm responsible for all of them.'" That speech, while serving as a formal introduction of Mrs. Hilton to the Mitty community, was the culmination of a lifetime of experiences that all led her towards this moment.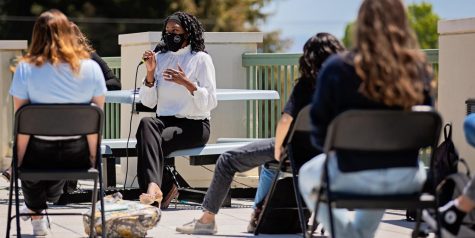 Upon her selection as President of AMHS, Mrs. Hilton immediately set out to introduce herself to the Mitty community through a series of meet-and-greets in early May of 2021. Even after the entire Mitty student body came back to campus in the fall of 2021, Mrs. Hilton continued to make it her goal to interact with the Mitty community as much as possible. "I popped up on a rap cypher one day," Mrs. Hilton mentions when talking about her habit of walking around campus. She elaborates, "I try to get out and walk around campus at lunch. If I see students sitting by themselves, I'll just roll up on them and just ask them how they're doing. They're like, 'Oh my gosh!' and I'm like, 'You're not in trouble! I just want to check in, are you doing okay?'"
Mrs. Hilton maintains three focus areas in her goals as President: safety and wellness, healing and reconciliation, and the fostering of a global mindset. The first of these, safety and wellness, stems from keeping students safe from the COVID-19 Pandemic which has shaped much of Mrs. Hilton's presidency thus far, but above all else, Mrs. Hilton seeks to emphasize the mental wellbeing of students at Mitty. In a similar vein, with the rise in consciousness surrounding racism nationwide with the Black Lives Matter movement and in our own halls after #ExposeMitty, Mrs. Hilton hopes to allow students and alumni to heal from discriminatory experiences, allowing the wider community to seek reconciliation from any harm that those experiences may have caused. Lastly, the fostering of a global mindset is a value that is close to Mrs. Hilton's heart: "I believe that the future is global. As you can see with TikTok, you can see a student in Japan, Turkey—wherever, and you're all having the same shared experience, right? And I think that that's just going to continue and intensify." Above all else, with the rich traditions and growing history of Archbishop Mitty, and especially with the torch now being passed on to her, Mrs. Hilton hopes to further preserve and honor that legacy.
"
Mrs. Hilton maintains three focus areas in her goals as President: safety and wellness, healing and reconciliation, and the fostering of a global mindset."
A large part of this extraordinary legacy owes itself to the former President Tim Brosnan, and as her principal during her high school career, Mr. Brosnan had a unique role in shaping Mrs. Hilton's leadership style and perspective on her role: "Mr. Brosnan would make it a habit to get out every day after school and just walk the halls and talk to teachers," Mrs. Hilton remembers. "He was also the biggest cheerleader—you would see him almost at everything. I would love to continue to support that. I also think Mr. Brosnan was just really good at vision, so I'll continue to hone that by continuing to listen."
Along with the new roles of being president of the school—overseeing the Board of Regents, the school's administration and finance, as well as being the liaison between the school and the public sphere—comes a host of responsibilities and decisions. For example, the ongoing COVID-19 Pandemic has led to numerous changes to daily life on campus, from outdoor assemblies to the addition of a COVID-19 testing site in Conference Room A, which Mrs. Hilton played a role in enacting.
Mrs. Hilton maintains specific habits aimed at alleviating the pressures of her role: "Sometimes you feel very lonely. You know? I do a lot of praying. I do—I pray a lot. I also have counsel. I keep a close group around me and have different profiles of people. So I've got the pragmatists: Man, I've got my girlfriends that will give it to me straight. I also have my mom who's suspicious and worries about everything." Mrs. Hilton adds, "I'm also a Yogi, I do yoga every day. And I find that it just helps me stay chill when I need to be. I have my yoga mat in my office. I close my door and just roll it out, even if I can just get a five or ten minute flow."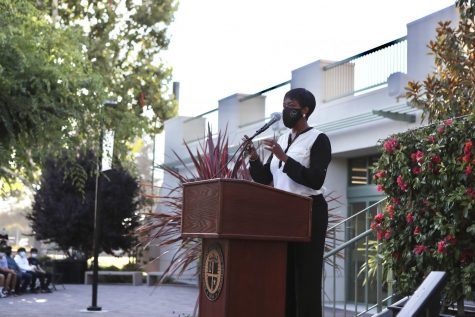 When asked how she felt that this new role fit into the grand scheme of her life—from Monarch, to Bronco, to Monarch again—Mrs. Hilton said, "I think it's the culmination. I take my experiences, working at Santa Clara University and Mitty and understanding how school works, and then I take all the experiences I have with running my own business and understanding financials and being an MBA. All of that culminates together into really helping to prepare me for this role." 
Once upon a time, Mrs. Hilton was a fourteen-year-old freshman, unsure of her place on the Mitty campus. But now, over thirty years later, her place in the Mitty community is certain. We would like to introduce to you, the president of Archbishop Mitty High School, Mrs. Latanya Hilton.