Humans of AMHS: Emma Pham
Humans of AMHS aims to showcase the individual stories within the Mitty community. Featured here is Emma Pham, a member of the class of 2023.
Drawing has always been a passion of mine, but I first started working to improve my art in sixth grade. I always had the idea of creating and selling my artwork, but I never imagined it would expand into the business it is today. The initiation of my journey began in the summer of 2019. After posting one of my drawings on the social media platform Reddit, I received an overwhelmingly positive response with calls to turn the drawing into a purchasable sticker. This is what first motivated me to begin selling my drawings as stickers at ThinkingInSpace. 
I usually do not have more than a few stickers in my shop at a given time. Some of my stickers are characters from popular video games, such as Overwatch and Animal Crossing, but the majority pertain to social groups that are in need of our collective help and support. My most popular sticker by far is the LGBTQ frog, which supports LGBTQ youth. When I first released this sticker I had about 100 sales, but shortly after, my sales skyrocketed to over 800!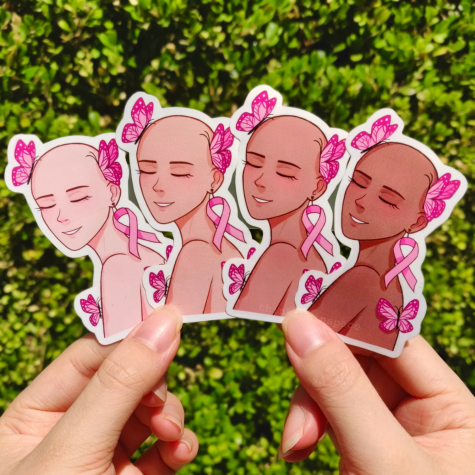 Another top-seller is the Breast Cancer awareness sticker. Each individual sticker is $3.25, with $2 going to charity. The $1.25 that I earn barely covers the costs for ink and shipping—not to mention the time spent. The main point of this business is to give back to charity. Each sticker raises funds for a charity that corresponds with its theme. For example, the LGBTQ frog stickers donate to the Trevor Project, an advocacy group for LGBTQ youth that provides suicide prevention hotline services. The Breast Cancer stickers, on the other hand, raise money for the National Breast Cancer Foundation, which focuses on preventing breast cancer through early detection screenings.
One of the most memorable moments from my business occurred in October 2020. Shortly after releasing the Breast Cancer sticker, sales were in a slump and I was feeling down. Out of nowhere I received a notification that left me shocked: someone had purchased over sixty Breast Cancer stickers (nearly $200 worth)! Luckily, I had enough stickers in inventory to complete the order. Along with the huge purchase, the buyer left a heartwarming message thanking me for both my work and for donating to such a good cause. This support made me super proud and rekindled my vigor towards the business. 
All of my stickers are hand drawn using the app, Adobe Procreate. What follows is the lengthy, but satisfying, process of turning my drawings into stickers. I start by printing out the stickers—which uses a lot of ink! Once the stickers are printed, I cover them with a waterproof sealant and cut each of them out by hand. With the stickers ready for delivery, I package all of them neatly in a handcrafted origami envelope. I take pride in this neat, detailed packaging which is one of my customers' favorite things about their purchase. The final step is delivering the stickers to the Post Office. I complete this entire process myself, with occasional help from my sister. 
Although this procedure can take a whole weekend, I stay motivated by the fact that I am contributing to a greater cause. The notion that I am working to assist organizations that I personally care about keeps me driven much more than by profit. Looking towards the future, I plan to keep the business low-key and continue involving charities that I care about. In retrospect, I am amazed that what started out as nothing more than a hobby was able to sprout into something that brings so much good.
You can find Emma's stickers at ThinkingInSpace on Etsy.