Sophomore Reflections: Their First Year at High School After Starting High School
As the only class who spent their whole freshman year digitally, the Class of 2024 steps onto campus for the first time as sophomores.
"And now class of '24, it's finally time to hear us roar!!" That "finally" conveys the belated feelings of anticipation that this year's sophomore class shares. Despite any challenges that the new school year carries after migrating off of distance-learning, whether that be the pressure of in-class essays, the banishment of open-note tests, or even the struggle with social skills, the sophomores are willing to accept these and conquer them all.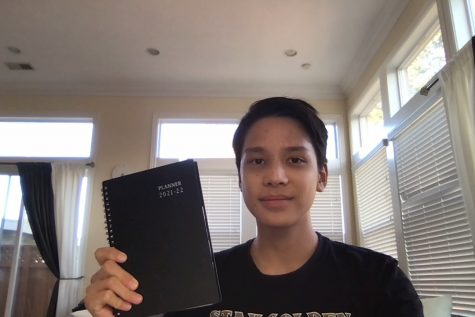 Starting with the first day of school, a strong effort to prepare is made by Nathanial Chyu to ensure a smooth sailing from the get-go, and to quell any notions of nervousness:
"The night before school, I'm pretty sure everyone gets nervous. I packed my bags and I checked my schedule and made double, no, triple sure that I knew what classes I had and got my phone charged and my iPad charged and basically brought all of my books—way too many books. I also slept early to wake up early, as I was used to waking up late in the Summer." 
As the first day of school ensued with the expected anxiety, another challenge presented itself: homework. Roger Chen summarizes a steep workload solely from the first week or two of in-person instruction: 
"I struggled more than I should have in the first two weeks. I wasn't expecting the drastic change in workload because freshman year was relatively easier, so… I have adapted now, but it was a shock for the first couple of weeks," Roger adds, "However, it is much easier to concentrate in classes because distance-learning provided a lot of distractions that could hinder your learning" 
Jun Jeon observes a change in the leniency of teachers as we get more direct engagement with in-person learning: 
"I would say that the teachers have gotten a little more strict compared to online learning. In the year of online learning, they were more lenient and were more understanding of our situations as opposed to the current school year."
With everyone being allowed back onto campus, clubs, extracurricular activities, and sports continued with the same intensity as before the pandemic. For Gavin Nguyen, the new school year has presented more opportunities in Robotics, leading to a greater enjoyment in the club:
"Last year, robotics felt more like a casual club than a club that requires dedication. Online, we didn't learn anything that concrete. As I am involved with the chassis and the hardware side of robotics, not being able to work hands-on and without tools really did not make much sense. Being in person now makes a multitude of difference—it feels as if we are actually learning and doing stuff directly."
While in-person learning offers many benefits, online learning still had some perks, such as being able to wake up merely 5-10 minutes before class started and having the option to use notes during almost every quiz or test. Do students sometimes wish they could go back to Zoom? Erika Chang shares her response:
"Not really, on Zoom I was really unproductive and felt like I was being dragged through the school year. This year, I am a lot more on track and focused. Being online was a big disadvantage rather than an advantage. Waking up early sucks, but overall what it does to your productivity is way better. I've never really thought about going back to Zoom."
Last year, clubs were online. This year's sophomores experienced a lack of club exposure and interaction as freshmen in the pandemic. Isabella Chang elaborates on her expectations of clubs this year and how they changed as she encountered the benefits of in-person club interactions for the first time:
"I didn't know when we could start joining clubs. Since this year is the first year of in-person club interactions, I feel like a second-year freshman. Last year, I joined clubs to make a good impression, but this year I actually joined them with friends, hoping to have more fun."