An Expansion of the DEI Office
The DEI Office in the Sobrato Student Life Center expands.
The Diversity, Equity, and Inclusion Committee (DEI) comprises a team of teachers, parents, and alumni who work to make campus more accessible and understanding. Although the specific roles of the committee may be unfamiliar to some students, it has long been an integral part of the Mitty community. In fact, the origins of Outreach precede both Dr. Miel Wilson, and Mrs. Patsy Vargas, the moderators of Black Student Union (BSU) and Latinx Student Union (LSU), respectively, and some members of DEI. Despite its established history on campus, the DEI Program is still striving for improvement through its recent office expansion in the Sobrato building.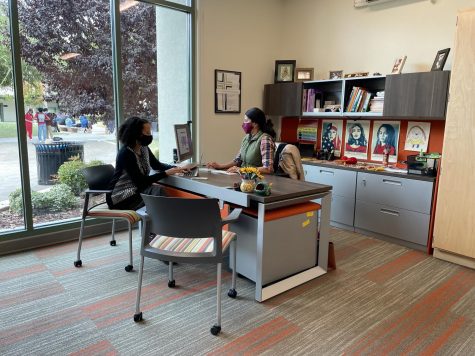 The physical expansion of the DEI Office is just one part of Mitty's plan to foster an environment of safety and inclusivity. While BSU and LSU have previously been its primary focuses, part of this expansion entails broadening the program's projects to encompass more members of the Mitty community. Mrs. Vargas encourages students to treat the new space as their home away from home; the DEI Office's new space can serve as a place to belong, no matter how you identify or who you are. She hopes that the expansion will reshape the Mitty campus through a lens of representation and attempt to repair mistakes made in the past. Along the walls of the new space are a series of paintings selected with input by students that represent Black, Latinx, Asian, and LGBTQ+ communities. According to Mrs. Vargas, these paintings are a tangible way for students to realize the DEI Office is a space of inclusivity, and that their voices and stories will be taken into consideration. Senior Anne Sanchez, co-president of LSU, mentions that the DEI Office and LSU are working to institute new projects to diversify LSU as well, through an acknowledgement of indigenous peoples and other underrepresented Latinx groups. 
Even beyond its significance as a symbol of inclusion, the DEI Office itself offers "a space where students can come in and hang out … and meet some different people," as Dr. Wilson says. When the renovation is complete, committee members hope to see the new office live up to the character and charm of its former location in Campus Ministry. Dr. Wilson aims to bring back the "lively energy that filled the old office." She recalls how students would regularly filter through. The DEI Office is now situated in Sobrato, the home of Student Activities and the Student Life Center, enabling students to drop in and socialize at their convenience. To encourage this, the office is always stocked with candy. Students can stop by throughout the day to catch up on homework or bond over a variety of board games. Because she only teaches one class, the DEI Office provides Mrs. Vargas with a convenient place to meet students: "You are welcome in this space," Mrs. Vargas says, "I want to know how you're doing and hear about your day."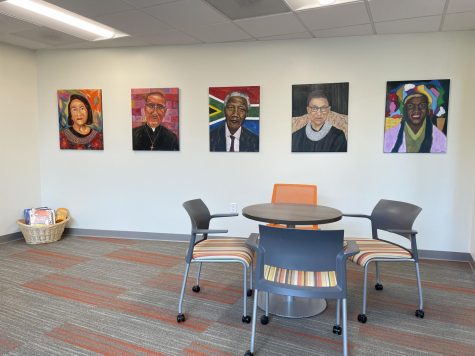 The DEI Office's expansion will not stop in the Sobrato building, however; the virtual domain of social media is its next destination. On Mitty's Instagram account (@AMHSMonarchs), the DEI Program will celebrate Hispanic Heritage Month, Black History Month, Asian Pacific Islander Month, and LGBTQIA+ Pride Month among other events. These posts share the stories of individuals who belong to these groups, and offer a way for members of the Mitty community to learn about each other's cultures and heritages. Their Hispanic Heritage Month spotlight featured quotes from an interview with Mr. Michael Heffernan-Zelaya, a new member of our library staff. The DEI Program aims to amplify diverse voices through social media outreach, even issuing invitations over morning announcements for students to pitch in.
The DEI Office is more than just a space in a building; it has been a part of our school for years, striving to make Mitty a more comfortable space for all students. It is a vast network of students and teachers working together to support each other and the entirety of the Mitty community. Anne Sanchez remarks that spending time in the DEI office "helps us be heard," and she hopes that this expansion can bring more inclusivity to the Mitty community.