Comparing Two Korean Restaurants: Chungdam and Kobawoo
Korean comfort food has a strong presence in both Northern and Southern California. If you're staying local, check out Chungdam—an upscale yet traditional microcosm of Korea. If you're planning a trip to Los Angeles, factor in a stop at Kobawoo House, a local Korean hotspot for family style dishes. Both Chungdam and Kobawoo pride themselves on their authentic, heartwarming Korean dishes. 
Since 1985, the small family-owned restaurant called Kobawoo House has been a hub for local Koreans, best known for its steamed pork belly, bossam, and mung bean pancake, bindaetteok. Kobawoo's menu is large, varying from well-known bossam to other popular Korean dishes like kimchi stew. Bossam is a traditional Korean dish consisting of pork, boiled just right where the meat is not chewy nor rubbery. It is sliced to perfection, wrapped in Napa cabbage, and served with a baby shrimp sauce for a salted flavor. This well-known platter also consists of pickled pink radish saturated in tart, acidic juices that cuts the grease from the pork and spicy oysters on the side. The flavors blend effortlessly, making it irresistible to grab another slice.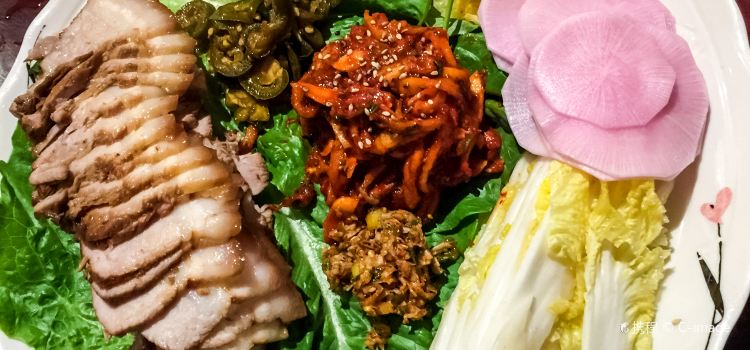 For people who don't like spicy food, try Kobawoo's bindaetteok, a Korean-style mung bean pancake fried to a slight crisp with golden brown edges that leaves leftover oil still crackling from the kitchen's hot stove. Bindaetteok can be served with pork but is also one of the several options on Kobawoo's menu that can be made vegan with scallions.
If Kobawoo is too far, opt for Chungdam, which is a mere eight minutes away from Mitty. Their best dish is the Suwon Galbi. Galbi is short for "rib" in Korean, and it is one of the most consumed types of meat in Korea. Unlike steak and many other American meat dishes, Suwon Galbi is sweet; it's caramelized in sugar and soy sauce served piping off the grill. The waiter carefully lays the strips of meat on the Korean-style grill until they are grilled to perfection. They then cook a piece of rosemary on the side, which sends a sweet aroma that accompanies the juicy smell of the meat. There are also circular slices of pineapple that are cooked and placed on the meat to make it even sweeter.
If you order the Suwon Galbi, you might wonder why there is such a surprisingly high price for just a few long strips of meat. It turns out that the Suwon Galbi is accompanied by a free beef dwenjang stew served in a ddukbaegi, a Korean-style pot. When the waiter opens the lid, steam rises its way up and reveals a brown, traditional soup made from fermented bean paste. The ddukbaegi is so hot that the stew slightly bubbles, as if there is a small fire under the pot. After it cools down, the distinct taste of salt and spice becomes even more present. 
Whether you decide to venture to LA to taste Kowaboo House's bossam or take the short drive to Chungdam for their Suwon Galbi, you will not be disappointed. Chungdam and Kowaboo's authentic Korean flavors are unforgettable and will definitely pull you and your family back for more.