A "Love Story" with Fearless (Taylor's Version)
In the words of Sophie Turner, Joe Jonas's wife, "it's not NOT a bop." (In case you're not up to date on all things Taylor Swift, Joe Jonas is Swift's ex-boyfriend — the one that allegedly inspired quite a few songs on Fearless). But really, there is no argument — we are all a Sucker for Fearless (Taylor's Version). The album brings so much to the table: the addition of six songs from the "Vault," an array of unreleased songs excluded from the original version of her 2008 album Fearless, the fact Swift gets to profit off of this album, and the nostalgia taking us back to our childhoods. There is no doubt in my mind that Fearless (Taylor's Version) is the perfect symbol of everything Swift has overcome thus far and all the success that is yet to come in her future.
"
The very fact that she owns the music now is so important because the emotions she poured into this album are what made it so popular, and she should be able to take ownership of her own work."
It's no secret that Taylor Swift has been through a lot in her journey to be one of the biggest pop stars in the world today — being hounded by the media and facing blatant sexism are just a few. But one of the major setbacks was the fact that her first six albums were essentially taken from her. Big Machine Records, the label she signed with when she was just fifteen years old, had ownership of her first six albums, meaning she had little to no control over what was done with that music. In addition, the record label ended up profiting most from her music, even though Swift's albums were essentially what popularized the label in the first place.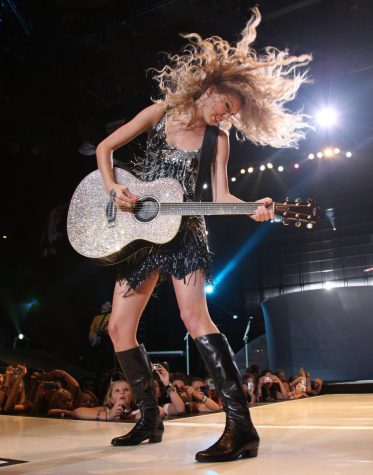 However, though her fight for ownership of those original albums was ultimately unsuccessful, she found an alternative way to reclaim the work that propelled her to stardom: rerecording her original songs years after they were first released. These songs are the ones in which Swift wrote about her own life. The ones that she poured her blood, sweat and tears into, and the ones that helped her get through her emotions and pain. This is the music that she made as she was growing up, and each of her albums symbolizes a new era in her life. Essentially, they're a testament to how much she's fought through.
Despite the media trivializing her feelings and claiming her songs were shallow because a few of them were about her past relationships, Swift stayed true to herself and kept writing songs that meant something to her. The very fact that she owns the music now is so important because the emotions she poured into this album are what made it so popular, and she should be able to take ownership of her own work.
Not only are these re-recordings incredibly empowering for Swift, but they're also opening up a new path for artists to take — one where their contracts allow them more power over their music. Ever since she began the fight to own her master recordings, Swift has been advocating for young artists to own their own music as well. She openly argued against Apple Music's 2015 policy where they decided not to give artists royalties on any free trial streams, influencing the corporation to start paying royalties on the music. In addition, after signing her new record deal with Universal Music Group, Swift made sure that profits from a sale of their Spotify shares would go directly to artists regardless of any balance left over from the advance they received when they signed. Essentially, this means that artists will get compensated fairly without having to worry about paying off the rest of their advances. There are so many layers of meaning to the re-recordings that it would take pages to go through them all, but the clearest and most tangible victory is that Taylor Swift finally owns her own album and is fighting for others to be able to do so as well.
Additionally, Swift's re-recordings are iconic because of the sentimental value they present to her fans. When I listened to Fearless (Taylor's Version) for the first time, it brought back so many memories of my childhood. Granted, I was two years old when the original was released, but I would sing "Fifteen," "Love Story," and "White Horse" on repeat growing up. Hearing these familiar songs recorded with Swift's mature vocals gave me a feeling of nostalgia like no other. While fans have been listening to all of these songs in the 12 years since the album was released, it was so incredibly special to hear the vocals of today's Taylor Swift on the songs that remind us of where her career began.
What's even more exciting is the fact that she also released six songs from her "Vault" accompanied by a myriad of easter eggs. The Vault songs allow fans who were too young to fully appreciate Taylor Swift's many eras back in the 2000's to do so now. And the easter eggs she dropped (such as capitalizing random letters in her release announcement to spell out "April 9th") are reminiscent of the hidden messages she used to put in the inside covers of her CD's. According to Swift herself, these recordings are a way to celebrate what the fans have done for her music, and what better way to do that than to bring them back to the magic of the first Fearless era? These little surprises show her dedication and excitement towards reclaiming her discography. From country to pop to indie, the release of Fearless (Taylor's Version) is the first step to re-exploring the incredible diversity of her music.
The excitement I felt when Taylor Swift announced the re-recording was unparalleled. From drawing speculation over who her vault songs are about (I mean, Sophie Turner practically confirmed "Mr. Perfectly Fine" is about Joe Jonas, right?) to reclaiming her freedom, the album means so much to the fans and Swift herself. Fearless (Taylor's Version) not only transports us back to a previous era, it also starts a completely new one that highlights her newfound freedom and the creativity that has made fans all over the world fall in love with her music.