Meet A&E's Senior Editors!
Our amazing senior editors — Helen, Lauren O., and Lauren T. — are graduating this year! To celebrate their hard work and contributions to A&E, we wanted to share some of their all-time favorites as well as some advice for new writers. Thank you to A&E's senior editors for their leadership, hard work, creativity, and friendliness!
HELEN

Favorite movie of all time: Gone Girl (2014) dir. David Fincher — if you haven't seen the iconic "Cool Girl" monologue yet….
Go-to boba order: Passionfruit green tea with boba and lychee jelly, light ice, half sugar!
How would you describe your music taste: If you asked me before 2021, I would probably say sad indie folk or alternative. But honestly, right now it's just road trip music — surf rock, psychedelic music, indie rock, hip hop, etc. — to chill out and keep the good vibes coming!
Current obsession: "Booster Seat" by Spacey Jane — surf rock and sunshine! Also, "Lovin Me" by Kid Cudi ft. Phoebe Bridgers — combination of the hip hop I'm listening to now and Phoebe Bridgers, the artist that soundtracked my high school years.
Why you love A&E: I love our community so much!! Our staff writers are incredible, and the editor team are some of my favorite people in the world. This section has not only helped me grow as a writer, but also as a friend :")
Advice for new writers: Use your voice!
LAUREN O.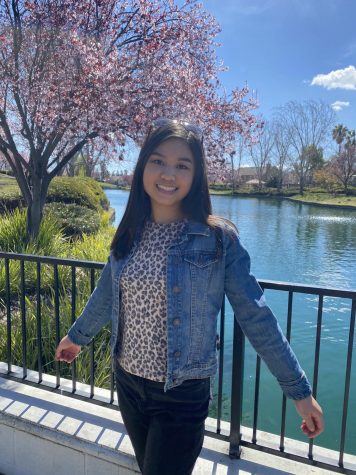 Go-to boba order: Strawberry milk tea with boba!
Guilty pleasure: ICE CREAM. Specifically, Häagen-Dazs dulce de leche!
Three recommendations:
1.) Criminal Minds — I don't know why, but I love murder mysteries and crime shows.
2.) Trader Joe's Banana Chips <3
3.) Netflix's documentary Operation Varsity Blues.
Why you love A&E: I love my editor team so much because they are always so supportive and willing to make sacrifices for the team : ) Our staff members are also extremely hardworking and creative; they always impress me with everything they write.
Advice for new writers: Write about what you are passionate about! A&E is unique because you can really write about anything you are interested in. Passion shines through your work and makes it way more interesting.
LAUREN T.
Favorite show of all time: Even though all of the characters are super annoying, I love Gilmore Girls. The first time I watched Gilmore Girls was in eighth grade, and the main character, Rory, made me want to become a journalist. I hated Rory, but I only really thought about journalism as a career once I saw her journey. I also have the fattest crushes on Jess Mariano and Tristan Dugray. I used to watch videos in this playlist that was exclusively clips of Jess, and whenever I re-watch Gilmore Girls, I always go straight for the episodes with Tristan and Jess in them.

Go-to boba order: 
Sunright Tea Studio: Sunright fruit tea, 0% sweet, extra ice (I just feel like Sunright never puts enough ice).
TP TEA: Tie guan yin tea, 0% sweet, regular ice.
Ume Tea: Orange green tea with boba, 0% sweet, regular ice.
Current obsession: I am currently obsessed with candles. I don't even light candles. I really want the boba-scented candle and the matcha latte-scented candle from Sunday Soy, and Book Lovers' Soy Candles from Frostbeard Studio. I literally have no space to put candles in my room and there's paper everywhere but I can admire them from afar…
Why you love A&E: A&E is the most fun. I've written for News and Justice Awareness as well, but writing for A&E comes naturally to me. I can really use my voice when writing A&E articles and share my opinions on things I'm enjoying or really, really disliking.
Advice for new writers: Don't be afraid to show your personality, and do not write articles like they're essays. If you're funny, be funny — but don't force it. Just make what you write uniquely you.