Deaths of Adam Toledo & Daunte Wright Trigger Protests
To many, Floyd's case had become a symbol for broader systemic issues within our police force. But just as the trial had started, the March 29 fatal shooting of Adam Toledo, a 13-year-old Latino boy, took place in Chicago.
Much of the nation followed the trial of Derek Chauvin. To many, George Floyd's case has become a symbol for broader systemic issues within our police force, and its centuries-long mistreatment of communities of color.
But just as the trial started, another incident involving an officer killing a person of color occurred: the March 29 fatal shooting of Adam Toledo, a 13-year-old Latino boy, in Chicago. A few weeks after the shooting, officials in Chicago released body camera footage of the incident, revealing the details of the case and what events transpired that led to Toledo's death. Early in the morning of March 29, two officers were responding to reports of gunfire when they saw two people in an alley and began to chase after them. One of these people was Adam Toledo, who was running away from the officer chasing him. The officer yelled at Toledo, telling him to stop and drop the weapon he was carrying. In the moment before the shooting, Toledo stopped next to a wooden fence, and, with his back to the officer, dropped the firearm behind the fence and raised his hands. Adam turned back towards the officer, with his hands lifted up, at which point the officer opened fire, shooting Toledo in the chest, causing him to collapse. The officer can be seen on the body camera footage attempting to administer CPR to Toledo, but it was too late.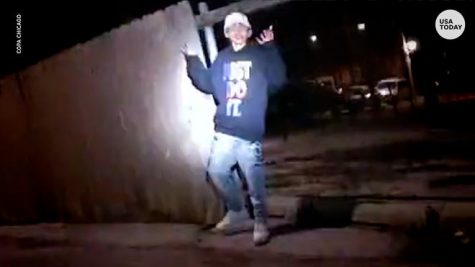 Following the event, the officer, Eric. E Stillman, was placed on administrative duties for 30 days. His lawyer has since come forward and argued that the shooting, while tragic, was justified given the potential threat Toledo presented to the officer. His lawyer alleged that "Stillman was put in this split-second situation where he had to make a decision."
Sheila Bedi, a professor of law at Northwestern, partly concurred with this statement, explaining in The Washington Post that the officer's perception of Adam as a threat made the officer's use of lethal force lawful. Bedi elaborated that the perspective is "grounded in Supreme Court precedent…where the Court directed that the 'reasonableness' of an officer's use of force must be judged from the perspective of a reasonable officer on the scene, rather than with the…vision of hindsight." Additionally, Bedi used this precedent to make a broader claim about efforts to reform police response. She notes that since these sorts of protections for officers are codified in law across many of our court systems, efforts to reduce police harm are met with resistance, as the police can't just be "fixed." Chicago itself has attempted to reform its police force for more than 100 years, with little success.
Thus, police reform must not be limited to reforming federal law, but rather also include entirely new and innovative community-centered approaches to public safety. Justice for Adam Toledo must, Bedi argues, include investments in communities of color and disinvestments in policing, coupled with efforts to limit the role of the police, such as prohibiting officers from responding to mental health crises and instead funding community-based mental health professionals.
To others, such as Gillian Brockell of The Washington Post, Toledo's death is another reminder of white privilege. Brockell recounted her own experience as a youth which was similar to that of Toledo's but with a much different outcome. She was hanging out with her 16-year-old neighbor, and the two of them were playing with their family's guns. Her neighbor dared her to fire the weapon, and Brockell, wanting to impress the girl, fired it. When another neighbor heard the gunshot, she called the police. When the officers arrived, they drove Brockell around the corner, had her apologize to the neighbor who was scared by the gunshot, and then let her go. Considering the experience now as an adult, Brockell saw it as a testament to her privilege, reflecting that "Now, as Toledo's mother mourns her son, there's something I understand. It isn't just that I got the privilege of moving through the world without a criminal record. But also that when the cops showed up, they didn't shoot me."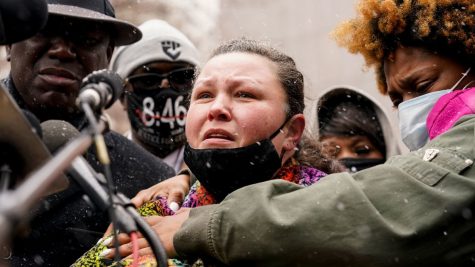 Only a month after the shooting of Toledo, the fatal shooting of Daunte Wright, an African-American male, took place in Minnesota, only 10 miles away from where Derek Chauvin was on trial. According to the police chief of the Brooklyn Center Police Department, officers pulled Wright over on April 11 for a minor traffic violation. It was at this point that officers discovered that there was a warrant out for Wright's arrest. The police attempted to restrain Wright, at which point the officers and Wright had a brief struggle, with Wright attempting to get back in his vehicle. The body camera footage of the incident shows that one of the officers, Kim Potter, pointed a handgun at Wright and shouted "Taser." The weapon was discharged and Wright's car continued to move forward. The car traveled several blocks and struck another vehicle, at which point Wright was pronounced dead at the scene. The Chief explained that he believes that "Potter had the intention to deploy her taser, but instead shot Mr. Wright with a single bullet." People have questioned how a trained police officer could confuse a gun and a taser, especially with the standard police gun being four times heavier than the taser. Wright was 21 years old and a father to a nearly 2-year-old toddler, Daunte Jr. The officer, along with the chief, have both since resigned, and Ms. Potter has been arrested and taken into custody. She faces charges of second-degree manslaughter.
To communities across the United States, the shootings of both Adam Toledo and Daunte Wright are symptoms of larger issues of race within policing. But the issue is complex. Policing cannot be reformed overnight, nor can change be effected through broad, sweeping declarations. For progress to happen, we must welcome free and open conversation—and this begins by acknowledging the complexity and nuance of this delicate situation.