2021 College Admissions: Diversity Amidst COVID-19 Setbacks
The COVID-19 pandemic has forced colleges to re-evaluate the way they choose which students they admit. This has produced a more diverse incoming class than any before it, especially at elite universities.
If you surveyed a sample of high school seniors on their future college plans, you would probably receive a variety of different responses. However, there would probably be one common thread: This has not been a normal school year. Many colleges would agree with this sentiment. For the first time in recent memory, the COVID-19 pandemic has forced colleges to re-evaluate the way they choose which students to admit, and this has produced a more diverse incoming class than any before it—especially at elite, highly selective universities.
As a result of the COVID-19 pandemic, fewer seniors, for example, have been able to take the SAT or ACT tests, and many who have taken it have only been able to take the test once. This has forced many colleges to reconsider the ways that they make their admissions decisions, which up until now have largely focused on quantitative factors, such as standardized test scores. As a result of the COVID-19 pandemic, up to 650 schools have now dropped the requirement for tests or become test optional.
What's the significance of dropping the ACT and ACT? These tests have long been a subject of debate with many critics pointing out how using the tests as a metric for intelligence intrinsically favors the privileged who can easily afford expensive tutors, online training tutorials and practice books, while less privileged students from lower socio-economic backgrounds simply don't have the same access to these resources to gain higher test scores.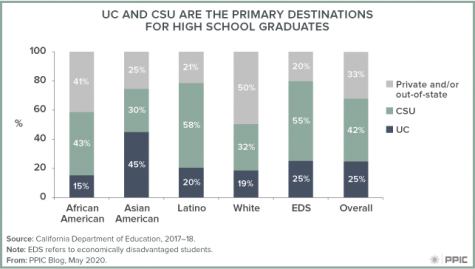 Students have responded to this change by applying to more schools because with the SAT and ACT hurdle removed, candidacy is now more viable. While the number of Common Core applications has risen 11 percent, the number of unique applicants rose by just 2.4 percent. This broader pool presented a challenge for many admissions officers, with MIT facing 66 percent more applications this year—these applications, however, comprised a far more diverse pool of applicants than in years before.
The test-optional policy in particular inspired many students to apply for their reach schools, hoping for a chance of admission that they thought they would otherwise probably not receive. This is part of the reason why elite universities are admitting more Black, Hispanic, and lower-income students who, often, are the first generation in their families to go to college. At the University of California Los Angeles, applications rose by a whopping 48 percent for African Americans, 33 percent for Hispanic students, and 16 percent for American Indian students, compared to a general increase of just 28 percent. 
The racial justice movement, which gained tremendous momentum over the past year, has also led a number of schools to produce essays that invite students to comment on the topics racial justice and diversity, giving many students from these backgrounds the opportunity to draw upon their lived experiences.
That's not to say that the pandemic has made admissions a level playing field and more fair all around.  For one, the increased admissions applications this past year only compounds the already-low admission rates at many of these universities, increasing the divide between those who go to college and those who don't. This year MIT offered admission to just four percent of its applicants, rather than the seven percent who were admitted last year. A reduction in applications for financial aid also suggests that fewer lower income students are planning on going to college amid a Covid induced economic downturn. Additionally, there is also evidence that essays, which are quickly becoming one of the key determinants for admissions officers, still favor privileged students even more than standardized testing which is waning as a major prerequisite for admission.
NEED CONCLUSION.  And considering all this…..(where are we now and what are we left with?)