Student(s) Spotlight: Mundo Magazine
With the hope of commemorating his grandfather Reymundo, a hero and role model in his life, senior Martin Ruiz spontaneously gathered a few of his friends together in order to create an Instagram magazine known as Mundo Magazine. When asked about his special relationship with his grandfather, Martin explains, "Everything I do, I do because of him, and through him." 
This magazine is nothing like what you are picturing…in the best way possible. It's edgy but surreal. It's spicy and fearless. Truly, there are not enough adjectives to fully encapsulate the atmosphere that Mundo Magazine creates. From eyebrows to politics, this magazine has become a creative outlet for not only Mitty students but for anyone in the Bay Area. 
What makes this magazine so unique is the myriad of art forms that it incorporates. Seniors Martin Ruiz, Kai Gatlin, Phoebe Robeson, Georgia Stolpman, Georgia Prentice, Samantha Fonseca, Sophia Alloggiamento, and Manny De Leon—  all contribute their own artistic talents to issues in the magazine. Mundo showcases pieces ranging from acrylic paintings, animations, photography, film, and more. One of the pieces featured in the magazine, "Headspace," is a beautiful oil paint with a mix of acrylic and paint pens. Asked about the meaning behind this work, Gatlin, the artist of the pieces said, "It kind of relates to feeling distanced from everyone and out of it by showing the subjects head literally in the clouds."  He adds, "I try to make the people I paint kind of universal so anyone can see themselves in it." 
The members of the magazine emphasize the quirky work environment of the magazine, which allows for freedom when coming up with ideas for each issue. Samantha reflects, "You can do whatever you want. The possibilities are endless." 
In addition to featuring art pieces created by their own magazine's staff members, Mundo also features the art of other Bay Area creators; they want Mundo to act as a platform that highlights local artists and their accomplishments. Mundo has featured local jewelry makers, fashion designers, clothing brands, and musicians alike in their magazine. For example, the magazine featured a local clothing brand known as "Prodigy Collections," interviewing the founder, Zach Lalwani, about how his high school dream of starting a brand became a reality.
Martin elaborates on the motivation behind the magazine, explaining, "I want Mundo to serve as a platform big enough to never let talent or art get lost in an echo chamber."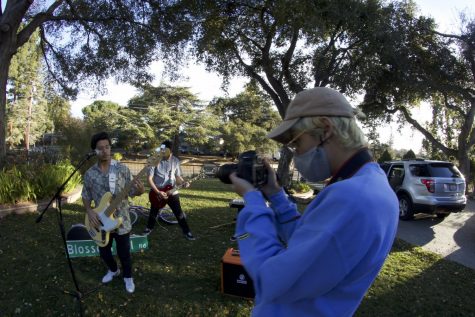 Besides its platform on Instagram, Mundo Magazine also has a website where items created by Mundo members such as stickers, posters, and prints are sold, with 40% of the proceeds going to United We Dream, the largest Youth-Led network that provides resources for undocumented immigrants, DACA recipients, and LGBTQ+ immigrants. This shop alludes to a larger theme sprinkled throughout the magazine: advocacy. In addition to the beautiful and complex art featured, the magazine also intertwines posts featuring poetry about the tragic murder of George Floyd, information about the policies that different politcians support, important resources like a California propositions voter guide, and more!
Ruiz urges Mitty students to, "Stick around with us. Mundo is going to progress over the next few years and it's going to be sick!" The success achieved by the members of Mundo Magazine reminds us that not even a pandemic should stop us from doing what we love.  
Make sure you check out Mundo Magazine on Instagram @mundomagazine!