A Common Foe?
How pots and pans became tools of protests: details on the impact of the recent military coup in Myanmar
March 14, 2021
Nightly across Myanmar, protesters bang pots and pans, in protest of the February 1 military coup. The banging of pots and pans is already associated with warding off evil spirits but has become one of a range of protest actions in recent weeks. Across the border in Bangladesh, persecuted Rohingya Muslims who fled a campaign of systematic military violence bang pots and pans in solidarity.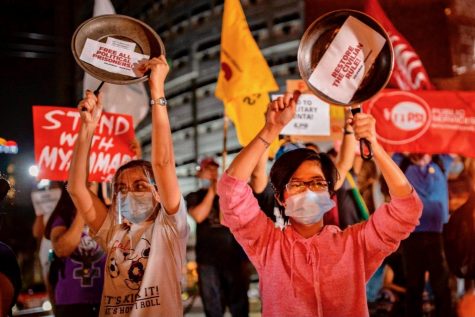 On the morning of February 1st, the military arrested civilian leaders and declared a one-year state of emergency. Fears of a coup had been growing since the military claimed fraud in November elections, where the opposition National League for Democracy expanded their majority. The NLD won 83% of the available seats while the military-backed party lost seats. Myanmar's top court and independent observers however rebutted the claims of fraud.
Most notable among the arrests was the detention of Aung San Suu Kyi, the widely popular civilian leader and Nobel Laureate. Aung San Suu Kyi was born in 1975, the daughter of General Aung San, an independence hero. After his death and when she was two years old, Aung San Suu Kyi was educated in India and England. She returned in 1988 and became a leader of the protest movement against the military junta's rule, landing her under house arrest. However, after 15 years under house arrest during which she became an icon of democracy, she was released in 2010. Since then the military has ceded some of its power but still retains control of key ministries and of a fourth of the seats in parliament.
Since the coup, doctors, teachers, and government employees have left their jobs amidst the chaos. Demonstrations have been widespread, with people from all walks of life calling for an end to the military coup. In response, the military, headed by Min Aung Hlaing has used water cannons and rubber bullets, and shut down major social media sites. In recent weeks the military, known for its brutal crackdowns in 1988 and 2007, has stepped up its response, causing the death of 60 protesters as of early March.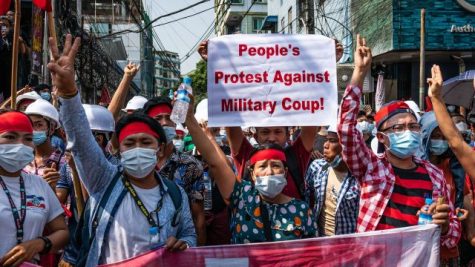 Protesters want democracy restored and the release of Aung San Suu Kyi, who is currently being held on four minor charges related to causing an uprising against the state. Some protesters are calling for a new constitution to replace the 2011 constitution. In Bangladesh, many Rohingyas are hoping for a new and truly inclusive constitution.
The UN has called for a return to normal in Myanmar but Russia and China have blocked any further action. China in particular has a complicated relationship with Myanmar. China is Myanmar's largest trading partner and sees Myanmar as a part of increasing its power in Asia. The U.S. meanwhile has announced sanctions against military leaders.
The situation is still ongoing, with the violence and military crackdown getting increasingly worse. The trial of Aung San Suu Kyi has been delayed, and since the 16th of March, the government has imposed martial law. Numerous countries have condemned the takeover, but it is still unclear if any will come to the aid of Myanmar.