L.I.F.E. Online
How members of LIFE Team are making their virtual experience as meaningful as possible.
"Hey there! How have you been doing," is a common phrase that echoed through the halls of Mitty when LIFE Team members ran into each other. A quick chat here and there is what bound the senior fellowship group into a close-knit community. However, with distance learning, this scenario never occurs, and seniors are going the extra mile to remain connected. Senior Fadi Ballou reflects on the success of base community nights, despite them being virtual: "We are just all talking, all the time." Senior Abigail Adame adds on with a smile on her face, "It's not forced at all; we just really enjoy talking to each other".
Mr. Wesmiller, Director of Campus Ministry, believes that the secret to LIFE Team is that when students become seniors, they "have a real vision that time is shorter as school years come to an end." They start to think differently about their lives, seriously contemplating their future and what kind of person they will become. As a result, seniors aim to make the best out of the time they do have left in school, despite the limitations that the pandemic has created. 
One way in which they do so is by celebrating each other's accomplishments, however small or large they might be. By encouraging and supporting one another, the members aim to encourage and uplift their peers for the actions and initiatives they have taken in such a difficult time. Mr. Wesmiller recalls, "When one of the members in my base communities got a shout out, everyone started celebrating and congratulating the person for their achievement." Likewise, the members have celebrated their collective accomplishments such as the Spirit Week Drive and the drive for families impacted by the California wildfires. 
Additionally, LIFE Corps members have gone out of their way to celebrate birthdays, compiling individual wishes with cliche dad jokes and puns to create a fun video for the student to enjoy. They hope that the student truly feels celebrated on their special day. While nothing measures up to personally wishing someone, the members are still making the best of what they can do.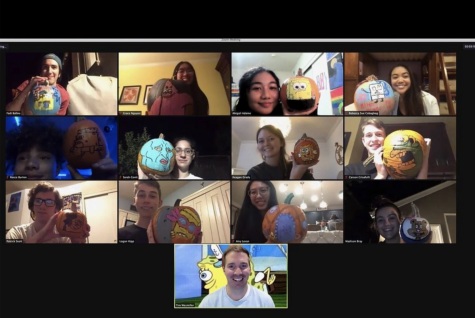 During Zoom calls, seniors contribute their personal perspectives on the theme assigned for the night. They present their authentic selves by opening up about their lives and the views they have developed over time, while aiming to connect with others on a deeper level. In order to keep Zoom from becoming tedious and tiring, as well as to avoid distractions from emails and text messages, members also make sure to bring humor into their meetings and maybe play Among Us. Senior Abigail Adams believes that her greatest takeaway from her experience in LIFE Corps and the pandemic is that "you get what you give. If you put yourself out there, despite the struggles you face, it will all come back to you."