Humans of AMHS: Abbey Galiotto
Humans of AMHS aims to showcase the individual stories within the Mitty community. Featured here is Abbey Galiotto, a member of the class of 2023.
It's hard to recall a time when Irish dancing wasn't part of my life. Since the age of two, I've attended the same school my mother did before me, and never stopped. Irish dancing connects me to so much more than the dance itself. It has enabled me to develop a deeper relationship with my Irish heritage and truly connect with my family members. Irish dancing focuses on interconnectedness of community: everyone knows everyone.
My grandfather pushed my mother to do Irish dancing, and his love of Irish dance was the catalyst for why I dance. Though he never participated in the dance, he loves it and is always very excited to watch my cousins and I perform. My mother has also been a part of my dancing journey, as a lot of the Irish dancing community has remained the same since her years of dance. I even have the exact same teacher as she did! Not only has this fostered a deeper connection between my mom and me, as she has so much insight into the world of Irish dance, it has additionally created an avenue for connection with other family members. One who I am particularly close with through the sport is my younger cousin. Only a couple years apart, I see her every week and have even gone to Ireland with her, part of the reason for our deep bond. Our bond really shows when we have to compete against each other. I particularly remember one competition — or feis – where we both danced, and I could hear her cheering me on despite us being competitors. I did very well, and I plan on cheering just as loud for her when she wins. If I hadn't started Irish dancing, I don't know if I'd be as close with my beloved cousin.
The sport as a whole is really a part of our whole family. One of my favorite memories from dancing is my first feis. There were no trophies—just pure fun. Everyone was there to support me: my parents, brother, godmother, and my teacher. I remember how overjoyed I was that everyone was there, all watching me dance my heart out. Irish dancing brought us together for that special moment in my life, as well as so many others, and for that I am forever grateful.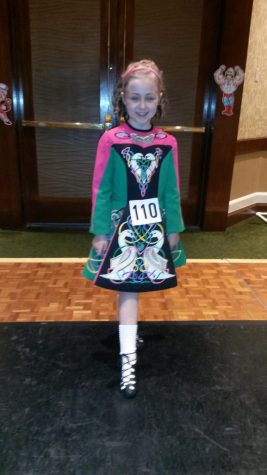 The family aspect extends beyond my blood-related family. With Irish dancing, I've come to know and form relationships with the people I'm competing against. I know all the names of the Irish dancing schools. I know all the teachers at the other schools, individuals that my mom also remembers from her years. She even sees people that she competed with 35 years ago helping their kids navigate our world. Although the Irish dancing community is big, it's also a tight knit family that I am happy to be a part of.
I have even brought skills I've learnt from dancing back to help my family. Through dance, I have been able to learn and practice how to teach younger students, as my teacher often pairs the older students off with the younger students to help perfect steps. Because of this, I am able to effectively work with my little cousins and help them with their math homework. 
To me, Irish dancing is so much more than just dance. It has connected me to my cultural roots; allowed me to cultivate great, lasting relationships with my family and friends; and gifted me more confidence and essential skills. The communities I have been able to form and be a part of have forever influenced me and are all a large component of who I am today. Above all, Irish dance has shown me that the connections and homes that you make along the way are what will push you to be your most committed self.