Polkadot Stingray: Japan's Star Rock Band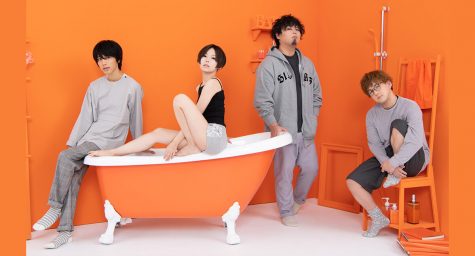 Bored of the same old songs on the radio? The repetitive songs that play as we go about our busy days may give the impression that music has stagnated—stuck with the same few pop artists who release the same song over and over in a slightly different package. However, this could not be further from the truth. Many amazing, lesser known artists exist out there!  And, if you dare, venture into the land of foreign bands.
Enter Polkadot Stingray, a Japanese rock band that I have been religiously listening to for the past year. Every song they throw out is an absolute bop, and their genre-switching sounds make each new song a wonderful surprise. They radiate coolness—the lead singer's style is characterized by edgy ear piercings, ever-changing hair color, smooth vocals, and interesting fashion. 
Even the name of the band itself is intriguing! Polkadot Stingray was formed in Fukuoka, Japan in April 2014 by Shizuku, the lead singer, lyricist, and composer. After returning from a foreign exchange program in England, she decided to form a band. Interestingly, she held auditions on Twitter! Soon after, the band chose Harushi Ejima for guitar, Yuki Uemura for the bass, and Kazuma Mitsuyasu for the drums. Each member is extremely talented, which they have to be in order to keep up with the frenzied speed of the songs and the long and intense solos. Each of their music videos are extremely well shot, engaging, and a perfect fit for the song. I personally recommend the "Megami" MV; the overarching story, band shots, and syncing with the beat is absolutely out of this world.  
Why? Polkadot Stingray is extremely successful in Japan, with their latest album instantly skyrocketing to the top of the iTunes chart, their concerts selling out concerts, and their appropriation of many movie and TV show themes. 
But who are these talented people? And why has no one in the US seemed to have heard of them? Sadly, their national success in Japan doesn't quite translate to international success. While their English speaking fanbase is growing, their threadbare subreddit and very sporadic English comments on their social media is enough to show that it hasn't quite picked up speed.  Even I only found out about them via a Youtube J-Pop playlist! 
There could be a whole host of reasons for this, but my theory is that many people don't want to listen to songs they can't understand. Before Polkadot Stingray, I adamantly refused to listen to any songs not in English. However, Shizuku's beautiful, heartfelt, and emotional vocals portray her feelings and experiences, even if you don't understand the words she's singing. But don't take my word for it, try listening for yourself! 
Their newest album "Nanimono" (何者) has just dropped on Spotify, and they constantly release new videos on their Youtube channel! So, what are you waiting for? Put in your earbuds, and get ready for a unique listening experience which will leave you begging for more.