Keeping it Candid with Candor
The creation of Candor, the newest addition to the swelling number of bands in the Mitty community, was truly a surprise for its members. This trio, juniors Elise Merritt, Arielle Rizal, and Sara Simoni, never would've believed you if you had told them they would be producing rock, bluegrass, and indie pop music within the speedy span of two years. However, one day during their sophomore year, before they officially established Candor, the three girls united to produce a music video, while vocalizing and playing multiple instruments. Unbeknownst to Elise, Arielle and Sara would soon offer her the opportunity to join their nascent band, after Arielle had told Sara that Elise was a "super good guitar chick." (Yes, those were her words. Verbatim.) With Elise as the electric and acoustic guitarist, Arielle as the pianist, violinist, ukulele player, and demo and graphics creator, and Sara as the bassist, main vocalist, and music video producer, Candor quickly came to life.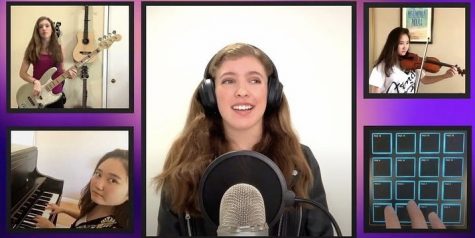 The trio decided on Candor as their title because they "wanted to pick a name that would show how we're always open about who we are as artists and musicians," according to Sara. All members honestly agreed that their only mutual interest in the music industry is Queen—and that's not just because Mitty plays Queen often at events. Their varied interests—whether it's The Beatles, Michael Bublé, AJR, Tyler the Creator, Lana Del Rey, or Doja Cat—aren't much like the classical pieces you might have heard Arielle and Sara play back in Orchestra their freshman year. While Sara says they're extremely "intertwined with performing arts here at Mitty," such as with their recent bluegrass contributions to Mitty's production of A Midsummer Night's Dream, the group sees Candor as a future external launching pad for original compositions outside of the Schott Family Music Center. 
Although their original songs are set to be released in March 2021, Candor has already released an album's worth of covers: Guns N' Roses's "Sweet Child O Mine," Lana Del Rey's "Bel Air," Meghan Trainor's "3 AM," and many more. Looking forward, they would love to experiment with R&B, even though Sara doesn't consider it their area of expertise. Nevertheless, Elise agrees, remarking that she "would honestly be happy playing anything." The entire band's focus on playing whatever they encounter is what's helped them grow in their knowledge and skills as musicians. For Arielle, playing Lead Keyboard in Mamma Mia! was a transformative experience; it allowed her to break away from her shell of being a 'classical kid' with her affinity for the violin. In that same production, Sara was playing Electric Bass while Elise was doing Sound Design and Crew. After taking advantage of multiple opportunities like these, the Candor members unanimously agree that incoming musicians should not be afraid to try new things. Their advice? Everyone should apply and audition for opportunities that will allow them to find their inner community of music aficionados—maybe they will find musical excellence, just like Candor did.