The Tower of Nero by Rick Riordan: A Bittersweet Finish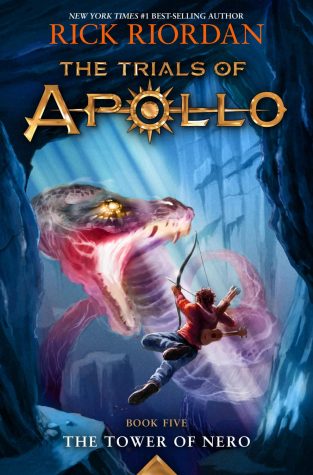 Fifteen years ago, the world was introduced to Percy Jackson and Camp Half-Blood. After two five-installment book series, Rick Riordan closes the Camp Half-Blood Chronicles with The Tower of Nero, the fifth and final installment to his series Trials of Apollo. 
Since my first encounter with the demigod world, monsters, mythology, and heart-wrenching cliffhangers have been my entire life. While the books are intended for middle school readers, they have touched the lives of many older fans (exhibit A: me!). The Trials of Apollo series follows the god Apollo who is cast out of Olympus and into the human body of Lester Papadopoulos. He experiences what it's like to live as a regular human and is forced to navigate the dangerous world of demigods. Needless to say, some wild and heart-wrenching events unfold. But it's nice to see that even after all he's been through, Apollo can still spit a fire haiku for each chapter title.
Over the span of these five books, Apollo's journey is long and harrowing. After falling from Olympus, he is forced to learn what it truly means to be human. Not only does he struggle with grief and humility, but he also forms friendships with demigods he previously believed to be mere pawns in his godly chess game. It's an emotional journey with laughter and embarrassing moments. Apollo's fall from grace is a beautiful message that has illustrated the range of emotions that comes with being human. From the darkest, lowest moments filled with loss and tragedy, to the bright, wondrous heights of love and friendship, being human is complex–especially for any previously godly beings who've lived their immortal lives partying with the Nine Muses and snapping away all inconveniences. 
In The Tower of Nero, Apollo becomes a more well-rounded character since the first book, yet he hasn't lost the distinct charisma that makes Apollo well… Apollo. Riordan balances his ego, humor, and millenia of experiences in a way that displays the absolute best version of Apollo. While the price of this quest was steep, there is a warm sense of hope lingering at Camp Half-Blood, which remains as a sanctuary for all demigods.
"
Growing up on these books, I can confidently state that there is something magical engraved into each word that keeps me coming back time and time again."
Although we meet some new campers and characters in The Tower of Nero, it's the familiar faces like Nico di Angelo and Will Solace that lure me in. We're able to see more of their relationship develop and more sweet in-between moments (Is that a teaser for their own spin off I see?). As for young Meg, who we last saw struggling with the trauma of her abusive step-father, she is pushed to show her incredible strength that all of us readers knew was always there–I also need to praise Rick Riordan's spotlight on mental and emotional abuse, demonstrating the lasting effects it can have on anyone.
While The Tower of Nero does hold the same predictable plot lines that other Rick Riordan's books have, his humor, epic battles, and heroic sacrifices make this journey feel just as satisfying as the others. Growing up on these books, I can confidently state that there is something magical engraved into each word that keeps me coming back time and time again. While I am disappointed that such a wonderful story is finished, it simply means there's time to read Riordan's other mythological stories and prepare for the long awaited Disney+ adaptation of the Percy Jackson series.