Music Through the Lens of Becca Cabagbag
For many teenagers, music pops up in their lives as Spotify tracks in the background or hobbies to pursue when life isn't so busy. For Becca Cabagbag '21, music means much more than a simple track or a hobby—music is her life, her art, her voice, and her passion.
Unlike most musicians, Becca's dive into the world of song was not something she decided herself, but rather something her mom quickly chose when she was younger. She signed Becca up for voice lessons at Bytes and Notes, a music company that is home to countless Mitty students. On her first day at Bytes and Notes, Becca surprisingly ran into her cousin Malaya Mosqueda during a group voice lesson. Seeing Malaya that day settled Becca's decision to stay at Bytes, subsequently kickstarting her extensive career in voice and piano.
Becca and Malaya have since collaborated frequently, whether it's to film meet-and-greets with singer-songwriter Alex Aiono (whom Becca loves for his musical simplicity) or to harmonize in a cover of Ariana Grande's "imagine." In addition to her collaborations with Malaya, Becca made the Top 20 at L.A. Voice with Danielle Judilla '20 after being chosen from a pool of 10,000 applicants! From this experience, Becca received the opportunity to perform at the highly competitive festival, emboldening both her passion for music and her confidence.
Besides her collaborations, Becca's most recent independent project was a cover of "First Burn" from the Hamilton Mixtape. She decided to cover this song after seeing Hamilton in December 2019, instantly connecting with how "Eliza is this very reserved character" she relates to, and how, after listening to the Hamilton Mixtape, "'First Burn' had a lot of the aspects that contemporary music has."
Being drawn to creating contemporary music, Becca cites Frank Ocean, Teyana Taylor, Kehlani, and Jhené Aiko as her favorite recording artists. These artists are the reason why her creations lean "towards a lot of pop and R&B…because that's what I listen to the most." Her works and these artists' works coincide in that they are all based on personal life experiences, whether they're explicitly defined or not.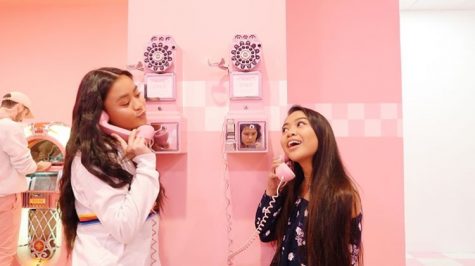 Becca integrated her life experience into a song she recorded with Malaya in honor of their cousin, entitled "Until We Meet Again."  This is the most personal song Becca has written since she typically writes compositions that are rather "spur of the moment type of things that any high schooler goes through." 
Looking back on her Mitty experience, Becca reflects, "I would have told my freshman self to take more creative opportunities…and to get more serious sooner" before becoming part of Kind of Blue and Exodus last year. Kind of Blue and Exodus have continually strengthened her vocal skill and have inspired her to apply to top music programs this winter, specializing in songwriting. So be on the lookout for Becca in her senior year and in the future as the eminent singer-songwriter she will become!
Check out Becca's music!