An Election of Firsts
Former Vice President Joe Biden's projected victory over incumbent President Donald Trump brought with it a wave of historic firsts.
Former Vice President Joe Biden's projected victory over incumbent President Donald Trump brought with it a wave of historic firsts. Vice President-Elect Kamala Harris will not only be the first woman, but also the first person of color to serve in the nation's second-highest office. A descendant of Jamaican and Indian immigrants, Harris' victory marks an important milestone in the nation's history. She acknowledged the momentous occasion in her acceptance speech: "I may be the first woman in this office [of the Vice President], I will not be the last."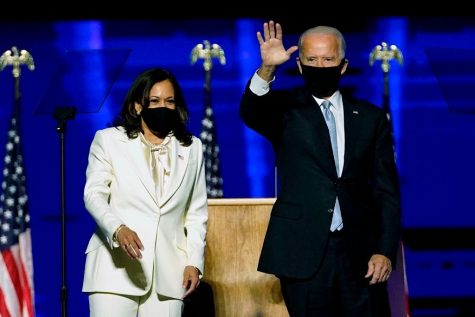 President Donald Trump, Vice President Mike Pence, and several other prominent Republican leaders have yet to congratulate Biden and Harris, under still-unsubstantiated claims of alleged voter fraud and voter count tampering. The Trump campaign has even assembled a legal team that is helmed by Rudy Guiliani, the president's personal lawyer, and consists of other political advisors with little to no legal background. In fact, Mr. Guiliani delivered a press conference at Four Seasons Total Landscaping in Philadelphia, Pennsylvania on November 11, 2020 in an attempt to fuel more speculation about the legitimacy of the election. This indeed marks a first in what appears to be a concerted effort by a sitting President to delegitimize the outcome of this established democratic process.
Below are tweets by the sitting president of the United States on the election.
In the House
Democrats appear to remain in firm control of the House despite losing 5 seats to the Republican Party. These losses have prompted a closer look at the divide between progressives, such as Rep. Alexandria Ocasio Cortez (D-NY), and more moderate Democrats, such as Rep. Nancy Pelosi (D-CA). 
Here are some historic firsts on both sides of the aisle.
Cori Bush (D-MO) will become the first Black female elected to a Congressional seat in Missouri's history.

Ritchie Torres (D-NY) and Mondaire Jones (D-NY) will become the first openly gay Afro-Latino and Latino men, respectively, to assume roles in the House.

Marilyn Strickman (D-WA) will be the first Korean-American woman elected to Congress and the first Black woman representing the state of Washington in the House.

In New Mexico: Deb Haaland of the Pueblo of Laguna (D-NM), Yvette Herrell of the Cherokee Nation (R-NM), and Teresa Fernandez who is Latina (D-NM) will represent in the House—making New Mexico the first state to elect all women of color to Congress.
In the Senate
At the moment, both parties control 48 seats each, in the Senate. To obtain full control of the Senate, either party must seize the two seats up for grabs in Georgia, which will have a special runoff election in Georgia. Democratic candidates Jon Ossoff and Raphael Warnock are competing against David Perdue and Kelly Loeffler, respectively. Debates between Ossoff and incumbent Perdue were abruptly cancelled by the latter, following Ossoff's now-viral indictment of Perdue's character. Below is a one clip.
A historic first was made in Wyoming:
Cynthia Lummis (R-WY) will become the first woman to represent the state of Wyoming in the Senate.
State Legislature
Several firsts were made at the state level:
Sarah McBride (D-DE) will be the first transgender woman state senator.

Kim Jackson (D-GA) will be the first openly LGBTQ+ state senator in Georgia

Democrat Jabari Brisport (D-NY) will be New York's first openly gay Black man elected to state senate.
Transition of Power
At of the time of publication, it seems unlikely for a peaceful transition of power to occur, in part because this is the first time no congratulations have been made by the current President to the President-Elect. Along with allegations of voter fraud, the Trump campaign has pursued lawsuits in several states, including Pennsylvania, Georgia, and Michigan. These lawsuits are founded on the Trump Campaign's claims of "ineligible individuals casting ballots," the use of Sharpies delegitimizing ballots (which has already been proven as false), and other blanket statements. White House Press Secretary Kayleigh McEnany, who also occupies a position in the Trump campaign, had another press conference on legal efforts on November 9th. Below are her remarks.
Most courts expect to, and already have, dismissed many of the claims due to lack of supporting evidence of voter fraud. Despite this, the sitting President continues to block a smooth transition of power as he refuses to accept his defeat—meaning that these disputes could likely go on until mid-December. While Sen. Mitch McConnell (R-KY), Sen. Ted Cruz (R-TX), Sen. Lindsey Graham (R-SC) have encouraged President Trump's baseless claims of election fraud, world leaders like UK Prime Minister Boris Johnson, a member of the country's conservative party, Canadian Prime Minister Justin Trudeau, French Prime Minister Emmanuel Macron, German Prime Minister Angela Merkel, and South Korean Prime Minister Moon Jae-in have congratulated President-Elect Biden.