Compounding Crises: The Native Response to the Pandemic
November 11, 2020
The COVID-19 pandemic has also laid bare the deep inequalities created by the colonization of indigenous peoples. 
But how are they really being affected? Many indigenous families come from low-income households, often working in low wage "service" occupations—often essential services— that require them to work vulnerably outside the home. This forces many indigenous workers to come into contact with potential carriers of the virus, and work in environments that simply cannot follow proper social distancing protocols. In addition, many families lack access to modern technology and safety measures that have resolved many of the issues experienced by non-indigenous families throughout quarantine. A report by the Center of Disease Control (CDC) corroborates this finding: COVID-19 is detected 3.5 times more in indigenous people than to white people.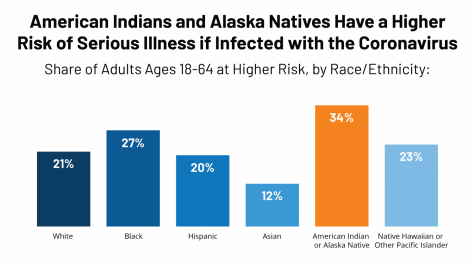 Many also have a high mortality risk to the disease due to common pre-existing conditions, mainly because many indigenous communities are located in food deserts, where healthier food options are often scarce, leading to an onset of conditions such as diabetes, kidney disease, and heart disease due to an unhealthy diet. While it is important to note that indigenous persons did willfully bring these physiological conditions upon themselves through dietary habit choices, it is more important to note that it is the failings of our leaders who refuse to recognize, address, and fix these issues that are ultimately the cause of this continued devastation.