Celebrating Eddie Van Halen, the Mozart of Rock Guitar
A tribute to Eddie Van Halen, guitarist of rock band Van Halen
Guitar God. Musical Innovator. Magnificent Songwriter. Eddie Van Halen was the Mozart of the rock scene in the '70s and '80s. Believed by some to be the greatest guitarist of all time, EVH completely transformed the genre of rock and influenced several bands that we love listening to today. Tragically, he passed away on October 6 after losing a battle to throat cancer, but the legacy he has left should be celebrated by every music fan.
Eddie Van Halen, born in Amsterdam, moved to Pasadena at a young age. Because of the language barrier, he and his brother, Alex, couldn't interact with others well, so they turned to music to bond with those in their school. And thank god they did; the pair went from performing at lunch tables to bars to beaches—eventually birthing the band Van Halen.
These two boys from the Netherlands ended up creating hits that shook the rock world, such as "Jump," "Panama," and "You Really Got Me." As the band grew in popularity, Eddie Van Halen's genius was revealed to the world. He was featured in Michael Jackson's "Thriller" and "Beat It" (arguably two of the most famous songs of all time) as the lead guitarist and won several Grammys and AMAs for his exceptional shredding. I think every rock fan can agree with me when I say you can encapsulate EVH in one word: iconic.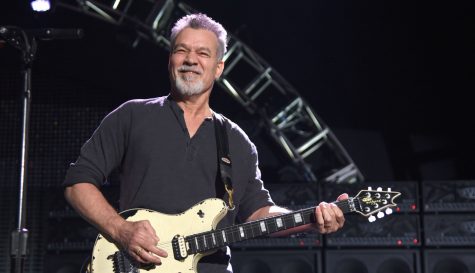 People often put Eddie Van Halen in the same category as Jimmy Page, Jimi Hendrix, or Eric Clapton—and they're right. The thing about these guitarists is that they're different, and EVH is the epitome of being unique and innovative in his music. Eddie himself described Van Halen as a very spontaneous band, and he lived up to his words when he improvised some of the greatest guitar solos of all time in "Beat It" and "Eruption".
His greatest contribution to rock is probably his invention of "finger tapping," in which he would abandon his guitar pick, stop strumming, and create masterful and majestic sounds by tapping the frets on his guitar. Rolling Stone called EVH "Guitar's Mad Scientist" because he would build his own guitars through trial and error, creating instruments that would sound superlative to anything anyone else had ever heard. He even invented the "whammy bar," which became the most popular tool in electric guitar in the 1990s. He even used synthesizers and keyboards to create musical masterpieces without knowing how these instruments worked! His exceptional knack for changing and experimenting with music has influenced practically every musician we listen to on a daily basis.
"
I think every rock fan can agree with me when I say you can encapsulate EVH in one word: iconic."
Guns n Roses, Metallica, Motley Crue, Kiss — the list goes on. The Guitar God Eddie Van Halen paved the way for these bands to become some of the most popular artists in the world. Guns n Roses guitarist, DJ Ashba, lamented about EVH: "I just love it—Eddie is one of my biggest influences ever. He changed the way guitar was played, and he became a huge influence on me. He's one of the #1 reasons why I picked up a guitar. It just blew my mind!"
Ashba isn't the only one. Rock aficionados say that EVH not only birthed the whole metal genre, but his playing also led to the modern rock that many of us listen to, such as Linkin Park or Greta Van Fleet. As a guitar player myself, listening to Van Halen and Eddie's genius sparked my love for rock and roll music, and I can't even imagine how many people could tell the same story. Thank you, Eddie Van Halen, for showing the world a real musical genius.