Into the LOONAVERSE
A look into the group behind "stan LOONA" + their growing popularity
If you've ever spent more than five minutes on Twitter, there's no doubt you've come across the phrase "stan loona." Like most people, you probably have no clue what "loona" is or why you should "stan," but to help you answer this question, here's everything you need to know!
LOONA is a twelve-member Korean girl group managed under the Korean entertainment company BlockBerry Creative. Starting in 2016, BBC debuted one girl every month with her own solo song, music video, and representative animal and color. The members in order of debut are HeeJin, HyunJin, HaSeul, YeoJin, ViVi, Kim Lip, JinSoul, Choerry, Yves, Chuu, Go Won, and finally, Olivia Hye. Totally not complicated at all. These girls are truly the center of LOONA's sound; despite having twelve members, each of their voices brings something different to the table, expanding their capabilities and concepts beyond most other Kpop groups.
The group is made up of three sub-units: LOONA ⅓, LOONA Odd Eye Circle, and LOONA yyxy, each of which have their own concept, sound, and dimension that come together to form "The Loonaverse." The Loonaverse is the storyline connecting all the music videos together, giving them a deeper meaning and leaving room for a plethora of fan theories about the lore. This complex story involves many themes such as time travel, quantum physics, color theory, the Bible, and self love—quite the combination, I know. This underlying storyline fused with the aesthetic imagery captured within LOONA's music videos immerses viewers and fans alike. The use of color, choreography, and metaphors as well as the songs themselves make LOONA's filmography stand out. Another trademark of LOONA is their wide variety of music concepts; with Butterfly's EDM undertones, So What's "girl crush" concept, Eclipse's R&B vibe, Kiss Later's bubblegum pop sound, and Let Me In's orchestral instrumental, LOONA successfully experiments with multiple genres while maintaining a cohesive discography.
In October, LOONA released their first full album with the title track Why Not?, which uses aspects from house and electronic music as well as pop. Their new album, titled [12:00], includes one fully-English song as a nod to their international fanbase. Compared to their domestic fanbase, LOONA has a much larger international audience, leading them to release some English songs as a thanks to the many global fans who have followed them so closely for the past three years.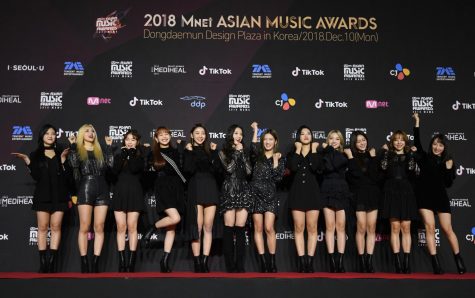 In 2019, when LOONA was announced as a headliner for KCON—a global music festival that hosts Korean artists—Twitter almost exploded. #LOONAcon trended within the hour and fans couldn't stop talking about it. With all this hype from the U.S. and beyond, one could assume that LOONA is just as commercially successful in Korea. But in reality, because of their relatively small entertainment company, LOONA was a fairly underrated group domestically, only just winning their first award in a Korean music show this year.
Recently, however, something has changed with LOONA. Reporters and journalists have started taking their photos at events, not just fans. Their monthly Spotify listeners have increased and their most recent music video hit 17 million views within two weeks. Fans are definitely to thank for these new commercial achievements; LOONA has always received massive amounts of support from fans, from the aforementioned "stan loona" meme to fans buying multiple copies of their albums to help them chart on Billboard. Fans were (and likely will always be) LOONA's #1 marketing technique. But why is that?
With many other Kpop groups, there can be a large disconnect between fans and idols. While there's the occasional livestream or fan signing event, there aren't many fan interactions beyond that. Meanwhile, with LOONA, there's endless content for fans to enjoy. There are over 600 short episodes of "LOONA TV" on YouTube where the girls take fans along through the process of filming, singing, and performing, sometimes even taking them along to other parts of their life.
"
Yves commented in an interview, 'I heard the LGBTQ+ community was really interested in the continued worlds of New and Chuu's solo, Heart Attack….we want to go beyond gender, race, and nationality.'"
Additionally, LOONA has always been very accepting of all fans. When LOONA released Butterfly, a song about self love, they included people of different races and varying body types in their music video, which is something that few other Kpop groups have done. The music videos for Chuu's solo, Heart Attack, and Yves' solo, New, have been interpreted by many LGBTQ+ fans as having queer themes. In response to this, Yves commented in an interview, "I heard the LGBTQ+ community was really interested in the continued worlds of New and Chuu's solo, Heart Attack….we want to go beyond gender, race, and nationality." Similarly, during promotions for Butterfly, a clip of fellow member Choerry receiving a pride flag from a fan and wearing it after a fan event trended on Twitter because so few Kpop idols have openly accepted and supported the LGBTQ+ community. These aspects of LOONA have inspired fans to basically take promotions into their own hands by passionately streaming music videos, purchasing albums, and convincing anything that breathes to "stan loona."
With fans always looking to talk to someone about LOONA—some of them going as far as writing articles about them in their school newspaper—LOONA is going to find a way onto your playlist. Whether that's through Spotify recommendations or through stan Twitter, there's a reason behind their popularity, so "why not" give them a listen?