MAP's Structure This Year
September 30, 2020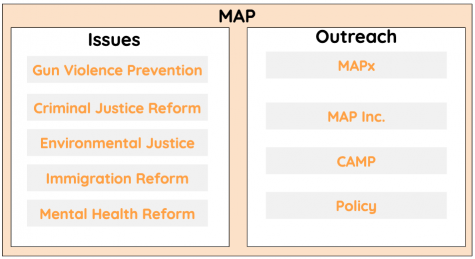 This year, MAP has nine key units. The five elected issue teams—Environmental Justice, Criminal Justice Reform, Gun Violence Prevention, Immigration Reform, and Mental Health Reform—focus on their individual issues through an Advocacy, Grassroots, and Education approach (AGE Model). The Policy division oversees legislative and policy efforts. MAPx—one of the outreach teams—focuses on civic engagement  around non-legislative methods and projects to raise awareness. The newest MAP divisions formed this year are MAPInc., and CAMP. MAPInc. focuses on international advocacy, school networking, and curriculum, while CAMP is dedicated to creative digital advocacy, employing online platforms like social media to raise awareness.
Although the pandemic and its inevitable circumstances have presented various challenges to MAP and the world at large, these new times have simultaneously opened up a wealth of promising opportunities for MAP as a club and for advocates around the world. In a typical school year, MAP has two major advocacy trips, one in the fall to Washington, D.C., to advocate for legislative change on the federal level, and one in the spring to Sacramento, concerning the state level at CYAN, the Catholic Youth Advocacy Network. However, given public health regulations and safety concerns prompted by the coronavirus, MAP is currently unable to attend such wide-ranging trips and events.
Nevertheless, MAP is working hard to ensure that everyone has the opportunity to be involved and participate just as much as they would be able to during a regular school year, or at least as close as possible.